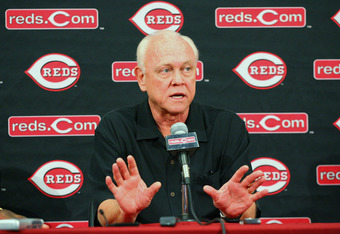 The proverbial seat isn't exactly piping hot for Reds general manager Walt Jocketty. But it's certainly not comfortable either.
In the midst of an injury-riddled season, in addition to being mired in a forgettable second half losing skid, Jocketty finds himself in a tough spot this week as the non-waiver trade deadline looms on Thursday. The Reds aren't out of the postseason hunt by any stretch of the imagination. But their odds of running down the likes of the Brewers, Cardinals and Pirates don't look good. So do the Reds buy, sell, or stand pat? Well, it's a decision Jocketty will have to make and fast, as the season isn't getting any younger.
At this point, most fans are likely still hoping Jocketty makes a move to help the Reds down the stretch run, while others are probably ready to throw up the white flag on 2014, choosing to build for 2015 and beyond instead. Whatever the case may be, ESPN Insider Jim Bowden recently tabbed Jocketty as
one of five managers under the most pressure to make a deal at the deadline
.