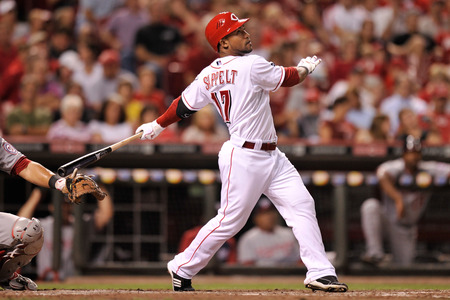 Sappelt is one of three players heading to Chicago
As first reported by
ESPNChicago
's Bruce Levine on Wednesday, the Reds agreed to send starter Travis Wood and two minor leaguers to the Cubs in exchange for reliever
Sean Marshall
, pending physicals.
Not only does it appear all went well with the physical results, but the identity of the two minor league players are now known. They are LF Dave Sappelt and INF Ronald Torreyes, this according to Keith Law of
ESPN
.
Sappelt, 24, was called up by the Reds late in the season and appeared in 38 games -- posting a .243 average, no homeruns, 5 RBIS and 8 doubles. He fared much better in 2011 at the Triple-A level where he saw action in 74 contests while posting a .313 average, .377 OBP, 7 HR, 29 RBIs and 16 doubles. He was rated as the 20th best prospect in the Reds' system by
Baseball America
prior to last year.
Torreyes, 19, spent the duration of '11 in Class-A Dayton where he hit a whopping .356 with a .398 OBP, 3 homers, 41 RBIs and 12 stolen bases. He committed just three errors in 265 chances (.989) with more of that time spent at second base.
Baseball America
tabbed him as the Reds' 22nd best prospect in last year's Prospect Handook.
Analysis
: Although it's tough giving up more players than receiving in a trade for the second time in a week, this move is clearly intended to make the team better NOW. Many consider Marshall to be the top left-handed reliever in the game today and should provide
Dusty Baker
a solid option out of the 'pen -- no matter how the club uses him.
While Wood still has room to grow, he will likely serve no better than a #4 or #5 pitcher in the rotation at the major league level. The limitations of his size, velocity, and lack of a dominant pitch in his arsenal will inhibit him from becoming indispensable in the future.
Sappelt is a guy who many thought would see action in left when Yonder Alonso was shipped away. Obviously, this is no longer the case. However, the loss of Sappelt is not detrimental by any means as he wasn't going to to be the long-term solution in left field (courtesy of @RedlegsWriter).
The teenage-aged Torreyes remains a bit of a mystery after making an absolute mockery of Single-A pitching this season. It's too early to project how this 5'9', 140-pound Venezuelan native will pan out, but with
Brandon Phillips
occupying second base for seemingly the next several years, along with
Billy Hamilton
waiting in the wings, it didn't look like Torreyes was going to get a chance at second anyway.