by: AJ Jaggers
Staff Writer
Here is a detailed breakdown of the free agent outfielders the Reds have been rumored to be interested in the last few weeks:
Ryan Ludwick
- He is 33 years old, and bats right handed. He played last year for the Padres and Pirates. Last year he was on a one-year deal worth $6.75 million dollars. He has decent power potential, but did not live up to that potential in 2011 (13 HR and 36 XBH in 490 Abs). His average was down a bit last year, but is a.261 career hitter. His power numbers would be a bit higher playing home games at GABP. He had 10 outfield assists in '11, so his defense and arm are average or above. He can play all of the outfield positions.
Rick Ankiel
- He is 32 years old and bats left handed. He played last year for the Washington Nationals. Last year he was on a one-year deal worth $1.5 million dollars. This guy once was a top pitching prospect for the St. Louis Cardinals, before he ran into some psychological issues. He worked his way back up through the system as an outfielder. He obviously is a tremendous athlete and has a better than average arm. He has adequate power (9 HR and 29 XBH in 380 Abs in 2011) and is not a high average hitter (.239 in 2011). He has some speed (10 SB in 2011). Again you could expect his power numbers to increase playing home games at GABP. He had 9 outfield assists in 2011. He has played predominantly CF in his career, but could easily play LF as needed. His versatility would play nicely into
Dusty Baker's
propensity to tinker with the lineup.
Cody Ross
- He is 31 years old and bats right handed. He played last year for the San Francisco Giants. He was also on a one year deal worth 6.3 million dollars for 2011. His numbers are very similar to the others. He has some power (14 HR and 39 XBH in 405 AB in 2011). Again not a high average guy, but is a .261 career hitter. He also can play all of the outfield positions, which Dusty would love and exploit for sure. The thing that you hear most about Ross that separates him from the others listed is his personality and "veteran presence." He would be more of a Jonny Gomes type player, with his personality.
The list of free agent outfielders is not a sexy list at all, none of the guys left on the list are going to jump off the pages as THE guy that will put the Reds over the top, but they are guys that will fill in where and when needed. They are guys that can come off the bench and provide a hit when needed. And the best part for Dusty Baker is the three players listed provide versatility to play most or all of the outfield spots. In my personal opinion, the current market and the asking price for Ross is ridiculous for a guy that will play every third day or so. Ludwick probably falls into that category as well, good guy, just too much money. I am intrigued by Ankiel, if the Reds could work a low risk contract maybe even a one-year deal worth under two million dollars, why not? He could be another of those low-risk, possible average return players. He would fit the roll of fourth outfielder well, but remember the Reds have some young guys they might give a shot as well.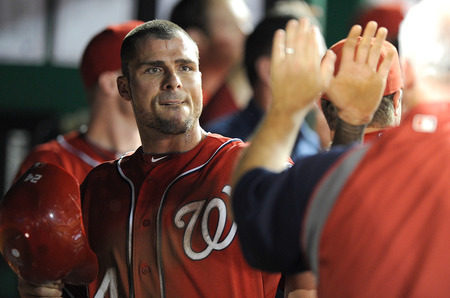 Prediction:
Reds sign Rick Ankiel to a low risk, one-year contract with performance bonuses ( ie Jeremy Hermida in 2011), but the young guys will be given a shot to earn that spot in Spring Training.
You can follow AJ on Twitter (@
ajaggers12
).