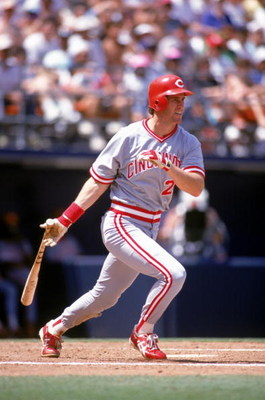 The Reds drafted O'Neill in the 4th round
of the 1981 Amateur Draft
Former Red and key member of the 1990 World Championship team
Paul O'Neill
is celebrating his birthday today. The retired right fielder is turning 48.
O'Neil spent parts of eight seasons in Cincinnati spanning from 1985-92 before he went on to flourish with the Yankees in New York. The Columbus, Ohio native batted .259 with 96 homers and 411 RBIs in his Reds career. He was named an All-Star during the 1991 season and finished 19th in the MVP voting in 1990.
In spite of his accolades Reds fans might remember O'Neill for one play in particular. It occurred during a game in 1989 against the Phillies. After being unable to field a base hit cleanly, the frustrated O'Neill literally kicked the baseball back toward the infield to prevent baserunner Steve Jeltz from scoring. It turned out to be one heck of a footer as the cowhide spiraled right into the cutoff man's awaiting glove. Jeltz ended up scoring anyway, on a wild pitch of all things, but the play is remembered as one of baseball's greatest bloopers of all-time.
All told, the left-hander won five World Series titles in his playing days (1 with CIN & 4 with NYY). He also holds the distinction of being the only player in MLB history to have played on the winning team in three perfect games. He was on the diamond for Tom Browning's in 1988, David Wells' in 1998, and David Cone's in 1999.