There's certainly no shortage of Reds-related reading material this week as Spring Training begins in just a matter of days. So, I've rounded up the best-of-the-best from around the web and combined them into one giant post for your viewing pleasure. Dig in and enjoy.
* Jonah Keri of
Grantland.com
offers up
a season preview for the Reds
, which includes a projected lineup and starting rotation, a breakout player prediction, and a best case/worst case scenario for 2012.
* Would the team be better off by having
Chris Heisey
roam center field over
Drew Stubbs
? Cliff Eastham of
BleacherReport.com
seems to think so. You can read his reasoning
by following this link
.
* The club outrighted RHP
Carlos Fisher
to Triple-A Louisville after he cleared waivers on Tuesday. He also received an invite to Spring Training camp as a non-roster player.
More details here
.
*
Bleacher Report's
Matt Trueblood gives his best case/worst case scenario for all 30 MLB teams in '12. See what he has to say about Cincinnati
by clicking here
.
Can Ludwick revitalize his
career at hitter-friendly GABP?
* Reds beat writer Mark Sheldon hints of a
possible platoon in left field
consisting of Heisey and
Ryan Ludwick
for the upcoming season. The franchise is still looking for the same kind of production out of LF that they received from Adam Dunn in years past.
*
Cincinnati.com
writer John Fay has been hard at work on his blog this week. Check out some of his latest posts where he poses some interesting questions heading into Spring Training.
LINK
.
* Dan Allen of the
Bleacher Report
breaks down newcomer
Daryl Jones'
chances at making the Opening Day roster in
his latest piece
.
* With the addition of Fisher on Tuesday, the team's current head count heading into Spring camp is at 57.
* David Schoenfield of
ESPN.com
asked readers on Twitter to name their top choice for breakout player of the year. He received 63 different names out of 100 responses, however, his own choice was none other than Reds right-hander
Homer Bailey
. Here's what he had to say about Bailey: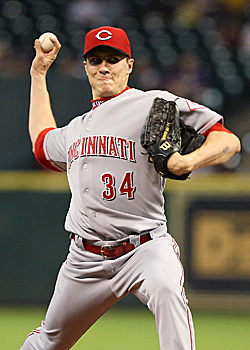 "
My own pick:
Homer Bailey
. Long-heralded, he finally started putting it together last season. Cincinnati's a tough place to pitch so I'm not expecting a 3.18 ERA or anything, but I think he can get that ERA in the 3.50-3.75 range and become a solid No. 3 starter behind
Mat Latos
and
Johnny Cueto
."
*
Pitchers and catchers can report to Goodyear, Arizona for camp on Sunday. All other position players are slated to report the following Friday on the 24th.
* We're now officially under 50 days until Opening Day 2012 at GABP.
* If you missed any of our position preview posts, here's the corresponding links to them below:
Day 1:
Outfielders
Day 2:
Infielders
Day 3:
Catchers
Day 4:
Relief Pitchers
Day 5: Starting Pitchers