Let's face it. Preseason rankings are pretty much useless. Okay, so the fans love 'em and they stir up some striking conversation, but accurately projecting the outcome for all 30 MLB teams is like trying to play ping-pong in the dark….with your hands tied behind your back. They rely too heavily on last year's results and the expected impact of offseason transactions. But to be fair, what else does one really have to go on? The answer is not much, unless of course you're the proud owner of a crystal ball (which I am most definitely not).
With that said, it's still fun to try and make sense of it all beforehand. It is tough to predict how the 2012 season will go for some teams, yet others are a little more predictable. The Astros are in a massive state of rebuilding and more than likely will lose 100+ games this year, while you know clubs like the Yankees, Phillies and Rangers will be in postseason contention come September. However, you'll soon find that trying to rank all 30 teams from best-to-worst is like trying to trying to pencil in the perfect March Madness bracket.
Luckily, I'm not one who goes down without a fight, so after soaking up a handful of projected standings and such, here's how I ranked them. Ladies and gentleman, I present to you the bottom-third of my preseason power rankings (20-11 & 10-1 to be published over the following days):
30 Houston Astros
- New owner Jim Crane is faced with the impossible task of rebuilding a proud franchise. Unfortunately, year one could be a long one…the last of which they'll spend in the National League
.
29 Seattle Mariners
- Everyone in the AL West got better this winter except the M's. Ken Griffey Jr. isn't walking through that door either. However, for the sake of ticket sales, Ichiro will be.
Baltimore's Mark Reynolds
28 Baltimore Orioles
-
New year, same story for the O's in the ultra-competitive AL East. Manager Buck Showalter continues in his efforts to try and lift the franchise back to relevancy, but does so in vain.
27 San Diego Padres
- They say there's no time like the present, but the Friars are obviously looking toward the future. Many rank their farm system as the best in baseball. With that said, expect some growing pains from this bunch as their young talent learns the MLB ropes.
26 Chicago Cubs
- Former Red Sox GM Theo Epstein has taken over the reins in the Windy City. What he has to work with is a weak farm system and a history of bad contracts. He'll do well in turning the Lovable Losers around eventually, just not in 2012.
25 Oakland Athletics
- It's likely that the most exciting moment of the year for A's fans will turn out to be the release of "Moneyball" on DVD back in January. Either that or the team's risky signing of Cuban sensation Yoenis Cespedes to a 4yr/$36M deal.
24 Kansas City Royals
- Tough to have success when you boast baseball's lowest team payroll ($35.7M). The Royals haven't tasted the playoffs in 26 years….make it 27 at the end of this one. But there is one bright spot for the organization -- his name is Eric Hosmer.
23 Pittsburgh Pirates
-The Buccos' streak of 19 consecutive losing seasons is alive and well after a 72-90 showing last year. The team came out like gangbusters to start the year only to fizzle out by the All-Star break. Clint Hurdle will aim to lead the squad back toward the .500 mark, but a 20th straight losing season is highly probable.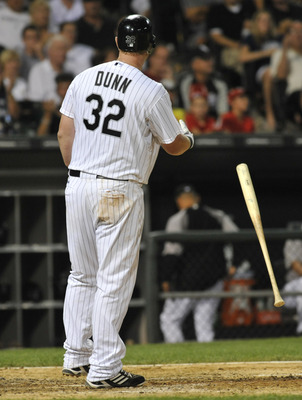 Chicago's Adam Dunn
22 Chicago White Sox
- There's little evidence the White Sox did anything to improve their ball club either short-term or long-term this offseason. To make matters worse, ESPN's Keith Law just ranked them as having the worst minor league system in all of MLB. Luckily, their current roster should be good enough for them to hover around .500.
21 New York Mets
- If slashing payroll was the main objective for teams this winter, consider the Mets the unanimous victors. But as the old saying goes, "you get what you pay for", and they may have just bought themselves a spot in the NL East basement.
So, there you have it. What are your thoughts on the rankings so far?
Remember to check back on the blog tomorrow for the post featuring teams 20-11.