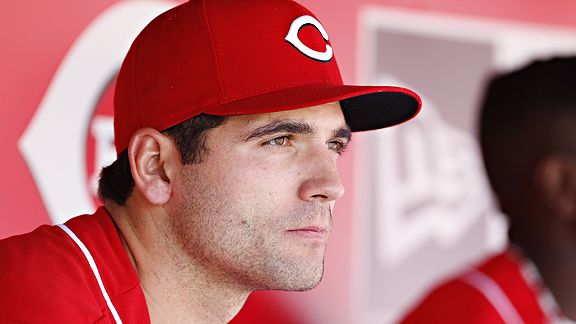 Votto headlines one of the best infield groups in the league
Today we take our best shot at breaking down the Cincinnati infield entering the 2012 season.
by: AJ Jaggers
Staff writer
The Reds defense on the infield grass is stellar. There are few teams that can boast the kind of hardware that this team can, with 12 Gold Gloves between the projected starters (even with a rookie at SS). One thing Reds fans have come to expect is a great product defensively. You expect to be amazed at least once a week by some play, whether a diving stop, sliding catch, or the occasional flip throw over the shoulder to get a speeding runner.
As with most teams the question is can a group of relatively young guys (excluding Rolen here) live up to their potential at the plate? Can the Reds return to the 2010 Reds, meeting or exceeding that potential? The question will not be with the defense of this team, but their ability to manufacture runs and score runners from scoring position, which they had some trouble with in 2011. Can this team win the one run games like they did in 2010?
Much of that will fall on the bats of the infielders -- who make up much of the heart of the batting order. We know Votto will do what Votto does. We know Phillips will get his hits, but can he produce at the lead-off spot? Can Rolen return to 2010 Rolen? What can we expect out of a full season from Cozart, can he maintain what he did in his brief stint from 2011? There is a lot to be excited about for Reds fans, especially on the infield. Let's take a deeper look at each positional starter and the back-ups.
Key Losses: Edgar Renteria (free agency), Yonder Alonso (traded to San Diego in Decemeber)
Key Additions:
Wilson Valdez
(signed as a free agent in January)
Joey Votto
-
Even in a "down" year in 2011 Votto produced and was one of the best first baseman in the game, and this year with the departures of Albert Pujols and Princ Fielder from the Central, he is the best in the division, hands down. In 2011 Votto hit 29 home runs, drove in 103 runs, and hit at a clip of .309. Oh, and by the way he won a Gold Glove, which he should have won the year prior as well. The Reds have a legit super star at first base. With Votto you know what you are going to get, big hits in big situations, a high average, one hundred plus RBI, and stellar defense. There are no questions at first base other than depth. If Votto misses any extended time (knock on wood) who will play at first base? The depth chart lists Miguel Cairo as the back up, but this may be Todd Frazier's ticket to the team out of Spring Training.
Scott Rolen
-
One of the biggest questions heading into 2012 for the Reds is which Scott Rolen will they get? Will they get the oft-injured '11 Scott Rolen, who struggled to stay healthy? Or will they get the 2010 Scott Rolen, who had 20 home runs and batted .285? Obviously, the Reds are hoping for a version of the 2010 Rolen, or something close to it. He is heading into the final year of his contract, and this season will probably determine if the "Pride of Jasper, Indiana" will continue his career not only with the Reds, but in baseball all together. His defense is not what it once was, but there are few that man the hot corner as he does (when healthy). He probably will not win any more Gold Gloves, but he is still a viable middle of the order hitter, as he makes contact and has some power. If Rolen is not able to stay healthy, the Reds will turn to Juan Francisco (who himself has trouble staying healthy). Rolen is a quiet leader, more by example, and is valuable to this team, hopefully this year he can lead by example more from the field than from the disabled list.
Brandon Phillips

-
The heart and soul of this team on and off the field, and a man that loves to play the game of baseball, Phillips will be a key to the success of his team. We all know he can play defense, with his highlight reel of magnificent and sometimes amazing plays. He will probably win a few more Gold Gloves to put on the mantle. But the key for the Reds is Phillips' success at the plate. Over the last few seasons Phillips' place in the batting order was one of musical chairs, moving from week-to-week. This year it seems as though he will head to Spring Training as the lead-off hitter for the Cincinnati Reds. This might open up the opportunity for him to steal some more bases and maybe look for that 30/30 season again. Hopefully the Reds and Phillips can get the distraction of the contract extension out of the way so that it does not affect him during the season.
Zack Cozart

-
Another thing to watch heading into Spring Training is the development of Zack Cozart. The Reds have been very adamant that Cozart is their starting shortstop heading into 2012. With what he showed in his brief time with the Reds in 2011 before being injured, the Reds and their fans have something to be excited about. He is a good young player, a good mix of speed, defense, and decent bat. I think that the local media in Cincinnati making comparisons to Barry Larkin are unwarranted and I consider it silly. Cozart will be given his chance this year to step up to the plate and play everyday, and we will see what he does with his extended audition, and how he bounces back from his injury. The addition of Wilson Valdez will add depth to this position and give the Reds a bit of an insurance policy, but this position is Cozart's -- the Reds have been clear about that.
Juan Francisco

-
If Scott Rolen can not stay healthy, the starting third base spot will be filled by Francisco. He had his own injury-riddled 2011 season. He is a young player, still learning plate discipline, but when he hits it the ball will fly off his bat. He will probably never have the defensive prowess of Rolen, but he can play third base every day if needed. He is out of options, so that limits the Reds moves they can make with him. He will most likely be in Cincinnati on Opening Day. He will if nothing else provide a power option off of the bench for Dusty and be able to rest a hopefully healthy Scott Rolen on scheduled days off.
Wilson Valdez

-
The newcomer to the mix is Valdez. Most Reds fans will remember Valdez for his pitching performance against the Reds last year. He brings the ability to play shortstop, second base, and third base. He is not going to beat the cover off of the ball with only six career home runs, but he will provide the "veteran back up" that Walt was looking for. It will be interesting to see how he is used in the rotation and how he is used by Dusty.
Miguel Cairo

–
Utility man extraordinaire, Cairo can do it all. He is not by any means the player he once was, but he can fill in day after day at a different position each day if needed. He can provide a veteran leader in the clubhouse, and a solid bat off the bench. In my opinion the final roster spots will be between Francisco (no options), Cairo, and Frazier. With Frazier heading back to Louisville, we all know Dusty loves his vets.
Todd Frazier

-
If Cairo is a utility player than Frazier is a super utility player. He can play the outfield and has played the infield positions as well. He is a big man and is most comfortable at the corner infield and outfield positions. He has some power and as a young hitter has pretty good plate discipline. His problem is finding a place to play at the major league level, and with the Reds finding that all important roster spot. If Frazier does not make the team out of Spring Training, he will be the last one sent back to the minors. The Reds would love to keep a guy like this around because of his versatility, but there might be no room on the roster for Frazier.
Looking to the future:
The Reds used some of their depth in the Minor League system to make the moves they made this winter. Moving several young pitchers and players blocked at positions they played. The Reds still have a lot of talent in their Farm System, especially on the infield. Several of these guys are very raw talents with much to still learn, thus are still several years away from the Majors, but they will be there eventually and make an impact when they do.
Billy Hamilton
-
Hamilton is probably the first name Walt hears when a team calls about a trade, and he answers "untouchable." This guy is a speedy, rangy, middle infielder. He stole 103 bases last year in Dayton. He is still working on plate discipline, and cutting down on strikeouts, but he can "pick'em up and put'em down" as Marty would say. Once he figures out that all he needs to do is make contact with the ball, the out run it to first (ie Drew Stubbs) he will be a nice addition to the Reds infield in the future. He is probably still another two or three seasons away from his arrival in Cincinnati.
Didi Gregorius

-
Another speedy middle infielder that spent last year in Dayton. Gregorius' defense is a bit better than Hamilton's. He has plenty of range and arm strength. Gregorius needs to work on the mental aspects of the game on defense and plate discipline (ability to take a walk). He has all the tools to be a success at the major league level, but needs to learn to focus to grow as a player. He is probably still another two or three seasons away from his arrival in Cincinnati.
Group Grade:
A
You'll be hard-pressed to find a better infield around the National League than the one roaming the GABP dirt this year. The group features two of the best players at their respective positions in all of MLB in Phillips and Votto, a veteran leader in Rolen who is still capable of putting together a fine season, and an emerging everyday starter at short with Cozart. Sprinkle in the others for added depth and you've got one hell of an infield. The only thing from keeping this group from an A+ is solid seasons from Cozart and Rolen.
To take a look at any of the prior position previews published this week, click on the corresponding link(s) below:
Day 1:
Outfielders
Day 2: Infielders
Day 3: Catchers
Day 4: Relief Pitchers
Day 5: Starting Pitchers