Today begins a 5-day series of posts breaking down the 2012 version of the Reds position-by-position. Similar to
last year's preseason preview
, we'll do our best in breaking down each player at that position while providing an overall group grade and analysis at the end.
Here is a preliminary schedule of what days each position will be featured/published:
Day 1: Outfielders
Day 2: Infielders
Day 3: Catchers
Day 4: Relief Pitchers
Day 5: Starting Pitchers
Now that we have that out of the way, let's turn our attentions to the men who patrol the vast greenery of the diamond known as the outfield. Not only are these players expected to display good arms and good range defensively, but they're relied on heavily for offensive production too. However, due to the departures of several players this offseason the depth at the position looks to be a bit thin right now. Luckily, Cincinnati appears to still have a few guys left who seem capable of shouldering the load.
Key Losses:
Dave Sappelt (traded to CHC on 12/23), Jonny Gomes (traded to WSH last July), Fred Lewis (signed as a free agent with CLE on 1/19), Jeremy Hermida (signed as a free agent with SD on 12/19)
Key Additions:

Ryan Ludwick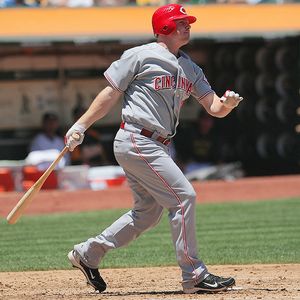 Jay Bruce
- At the ripe old age of 24, and with four big league seasons now under his belt, Bruce continues to blossom into an elite-caliber player. The native Texan posted career-highs in homers (32), RBIs (97), doubles (23), runs (84), and games played last season (157) while earning his first trip to the Midsummer Classic. Aside from racking up solid numbers at the dish, #32 has quickly gained a reputation for being one of the finest right fielders in the league as well. His sure-handiness, decent range and ability to make runners think twice before advancing to the next base make him a superb asset in the GABP grass. The club will once again rely heavily on Bruce in their charge for a postseason berth.
Drew Stubbs
- If Reds fans had to choose one player who frustrated them the most Stubbs' name would likely come up more times than not. Although still entering just his third full major league season in 2012, the 27-year old took a step back statistically in 2011. He saw declines in homers, average and RBIs and saw a meteoric rise in strikeouts. In fact, his 205 punchouts not only led Major League Baseball, but that total also placed him third on the all-time single-season strikeout list, trailing only Arizona's Mark Reynolds. But what the former first round pick lacks in contact, he makes up for with blazing speed -- as evidenced by his 40 stolen bases and ability to track down a flyball better than any other center fielder in the bigs. If Cincy wants to regain the NL Central Division crown they'll need a better season from Stubbs than the one he recorded in '11.
Chris Heisey
- Is there a more intriguing player on the 40-man roster than this guy? When given his chance the 27-year old did not disappoint albeit in a limited role. In just 308 at-bats he crushed 18 longballs, drove in 50 runs and sported a modest .254 average. Take those numbers and prorate them over the course of a full season where he starts everyday and you have a 35HR/100RBI-type player. Unlike this time last year where the squad boasted plenty of depth in the outfield, Heisey will surely get a shot at more playing time this go-around. Will he continue to produce at the rate he was going, or will the strain of playing everyday take a toll on his output? Only time will tell.
Ryan Ludwick
- Although it's not official yet, I expect the 33-year old to suit up for the Redlegs in 2012. Brought in clearly to provide more stability in left field to go alongside Heisey, the team hopes Ludwick can channel his 2008-form where he posted a .299/37/113 line for St. Louis. However, the UNLV alum has seen consistent declines in his production since then, posting a .237 average with 13 homers and 75 RBIs while splitting time between the Pirates and the Padres last season. With that said, one season playing in the hitting-friendly confines of GABP might be just the cure for the 1-time All-Star.
Denis Phipps
- The 26-year old is clearly the darkhorse candidate of this group. Having spent all seven of his professional baseball seasons in the minors, little is known about the Dominican native to casual fans. But after feasting off of minor league pitching in 2011, Phipps looks determined to make a name for himself in Cincinnati. Phipps combined to hit .346 with 12 homers, 64 RBIs and 14 SBs with Double-A Carolina and Triple-A Louisville -- impressive enough to have the organization include him on their 40-man roster (the departures of others didn't hurt either).
Guys we could see later in the year:
Willie Harris
,
Todd Frazier, Daryl Jones
Group Grade: B
I had a tough time coming up with a grade for this group. Outside of Bruce, you really don't know what you're going to get out of the others, which is both exciting and frightful. If Stubbs can cut down on his strikeouts and get on base more, if Heisey can rake at the pace he was last year and if Ludwick can provide some steady offense this area of the team will be just fine. However, if Bruce is the only one pulling his weight this outfield group could easily be viewed as average to below-average. One thing is for certain though -- the combination of Heisey, Stubbs and Bruce will give the Reds one of the rangiest defensive trios in the league. You can write that down.