Can Cueto repeat the success he had in '11?
Today we take aim at analyzing the Reds' starting rotation for the 2012 season.
This time last year we were talking about how many capable arms the Reds had at their disposal in respect to their starting rotation. It's amazing how fast things can change, isn't it? For what Cincy held in quantity back then they lacked in quality. You can flip the script for this upcoming season -- quality is in and quantity is out. The Reds traded away that aforementioned depth by sending 2011 Opening Day starter Edinson Volquez (and 3 others) to San Diego, shipping southpaw Travis Wood to Chicago, and lost 2-time All-Star Dontrelle Willis to Philadelphia via free agency. However, they did do well in landing promising, right-hander
Mat Latos
to help anchor down the top of the rotation. Here's a more detailed preview of what you can expect out of the Reds' starting rotation this year:
Notable Losses: LHP Travis Wood (Traded to CHC on 12/23/11), RHP Edinson Volquez (Traded to SDP on 12/17/11), LHP Dontrelle Willis (Signed as a free agent with PHI), Matt Maloney (Claimed off waivers by MIN)
Key Addition: RHP
Mat Latos
(Acquired via trade on 12/17/11)
Notable Addition: LHP Jeff Francis
Projected Opening Day Rotation:
RHP
Johnny Cueto
- It's still hard for me to believe that Edinson Volquez was the Opening Day starter for this team just one year ago. And as surprising as that may be, I was just as surprised at the emergence of Johnny Cueto last season. After missing a month due to injury to start the year, the Dominican native turned into the undisputed ace of the staff -- posting a 2.31 ERA and a 9-5 record in 24 starts, while holding opponents to a .220 average. Dusty Baker and the Reds will rely even heavier on the right-hander in 2012 as he attempts to not only position himself among the one of the elite starters in the league, but guide Cincy back into the postseason as well.
RHP
Mat Latos
- Arguably the biggest transaction for the franchise this offseason was the acquisition of 24-year old Mat Latos. The Redlegs were willing to part ways with three of their highly-touted prospects to get him in RHP Brad Boxberger, C Yasmani Grandal and 1B Yonder Alonso, in addition to enigmatic RHP Edinson Volquez. Latos hasn't exactly been the pinnacle of success in his three years in the majors thus far (27-29, 3.37 ERA, 1.15 WHIP), but GM Walt Jocketty is obviously making a hefty gamble that he will. The Alexandria, Virginia native will look to reach the 200-inning mark for the first time in '12, while also improving on career-highs in wins (14) and ERA (2.92) from a solid 2010 campaign. If Latos pitches as well as his wife (@
DallasLatos
) tweets this year he'll most certainly be in the discussion of the NL Cy Young Award.
RHP
Bronson Arroyo
- What more can you say about Arroyo's 2011 season other than it was just plain bad. Still after surrendering a league-leading and club-record 46 homers and recording his highest single-season ERA (5.07) since 2001, the blonde-haired, guitar-pickin', crazy-legged, right-hander persevered and managed to stay healthy all-year long -- something that others on the squad found hard to do. Despite falling just one measly inning shy of reaching the 200 IP mark for the seventh straight year, the 35-year old is preparing himself for a much better year this go-around. Some may argue that Arroyo should be removed from the rotation altogether, that could be a valid proposal, but the fact that he'll be making $12M to pitch in 2012 certainly dismisses such an idea. And not only that, but the Reds desperately need Arroyo to be the veteran leader of a relatively young starting five.
RHP
Homer Bailey
- Homer is slated to receive a huge bump in pay this season and the Reds are hoping for a breakout year in return. The progress has been slow and steady for Bailey since the organization used their first round pick on him back in 2004. Mired by injuries, bad luck, and sometimes confidence, the 6'3" hurler is coming off his best season where he posted career highs in wins (9), ERA (4.43), games started (22), innings pitched (132), and WHIP (1.280), among other categories. And now after spending parts of five seasons in the big leagues could Bailey finally become the pitcher the team thought he'd be when they plucked him from LaGrange, Texas nearly eight years ago? Only time will tell, but we've yet to see Bailey go through a full season without suffering some kind of ailment. Could 2012 finally spell injury-free for the right-hander? Hopefully the answer is a resounding yes by season's end.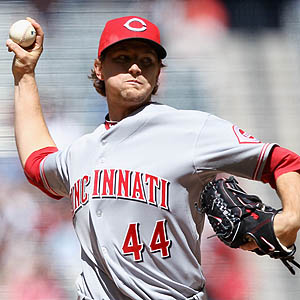 RHP
Mike Leake
- When you hear about Cincinnati pitchers Leake's name doesn't very often. However, I must ask the question, why not? The 24-year old has been nothing but an asset for the team since he broke onto the big league scene at the beginning of 2010. Outside of Cueto, Leake was the Reds' most reliable and productive starter, in my opinion, this prior year. After increasing his wins, games started, and innings total from '10 to '11, Leake is on pace to win 15-games and reach nearly 200 IP in '12. One would also have to assume that the addition of Latos and a healthy Bailey could pay big dividends in Leake's output as well. If skipper Dusty Baker does indeed decide to pencil in Leake in the last spot in the rotation, how many teams out there have a #5 starter that compares to Leake? The answer: very, very few.
Guys we could see later in the year:
LHP Jeff Francis, LHP
Aroldis Chapman
, RHP
Chad Reneike
, RHP
Scott Carroll
, LHP
Scott Cochran
Group Grade:
B
Handing out an accurate grade on this group is like trying to pick out a flavor of ice cream at your local Graeter's. You think you've got one and than something else makes you change your mind. I finally settled with giving them a B for a couple reasons. First, there's still a lot of unknowns with this starting rotation. Will Latos live up to the hype? Can Cueto pitch as well as he did in 2011? Will Arroyo bounce back? Can Bailey stay healthy? Will Leake continue to pitch the way he has? You just can't say without at least a slimmer of doubt. Secondly, the attrition caused by trades and roster cuts this offseason have left the depth here thinner than in year's past. Gone are the days where the team could simply replace an injured starter with a stable of ready, young arms. Those arms are either pitching for other teams now, or are already cemented into the starting rotation.
Make no bones about it though, this core group could potentially be one of the better starting fives in the league. We already know that Cueto has "ace stuff", Bailey and Leake continue to come along, Latos has tons of potential and there's no way Arroyo can experience a 2012 season as bad as his 2011 one. All in all, I expect this area of the team to be improved over last year.
That's a wrap on our 2012 Preseason Preview by Position series. I hope you enjoyed it as much as we enjoyed writing it.
To take a look at any of the prior position previews published this week, click on the corresponding link(s) below:
Day 1:
Outfielders
Day 2:
Infielders
Day 3:
Catchers
Day 4:
Relief Pitchers
Day 5: Starting Pitchers