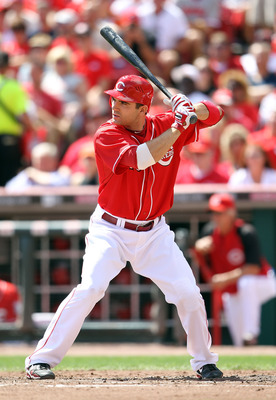 Votto tops the list at #1
MLB.com
recently ranked the entire Reds roster (and all 29 other MLB squads) as part of their "2012 Fantasy Baseball Player Previews". While there's no real surprises at the top, the order in which they ranked the remaining Reds players may make you wonder. Here's a brief look of the top ten:
1) Joey Votto 1B
2) Jay Bruce RF
3) Brandon Phillips 2B
4) Mat Latos SP
5) Drew Stubbs CF
6) Ryan Madson RP
7) Johnny Cueto SP
8) Aroldis Chapman RP
9) Mike Leake SP
10) Bronson Arroyo SP
Quick analysis:
No arguments from me with having Votto, Bruce and Phillips comprise the top three. However, after that you can mix and match the rest of the top ten without much consequence. I'm a little shocked to see Stubbs that high, but than again one can't underestimate the value of stolen bases in a rotisserie (scoring-type) league -- they're hard to come by for fantasy owners, you know.
I'm also surprised to see Chapman sneak in there at #8 given the fact that nobody around this team seems to know what his role will be this year. The additions of Sean Marshall and Madson at the back end of the 'pen have blocked his chances there. Meanwhile, the starting rotation looks about as close to set as I can remember it being for this time in the preseason, thus deeming his services unnecessary there as well. I'm not sure what they're planning on doing with the Cuban southpaw, but they better utilize him enough to justify the 5yr/$26M contract they inked him to in 2010.
You can view the rankings (1-28) in its entirety, as well as '12 projected stats and a paragraph justifying each of the players assigned value by
following this link
.