Today is day four of our 8-day series featuring predictions for the upcoming season. In this post we examine who we think is poised to be the Most Improved Player on the squad. After a careful and grueling process (kidding) this is who we came up with:
@RedlegsWriter's pick:
Drew Stubbs
-Perhaps, "most improved season" would be more fitting for Stubbs because he has already shown what he can do hitting .255, with 22 HR and 77 RBIs in 2010. However, there is definitely much improvement to be had as a player by Stubbs after striking out 205 times in 2011. He has a rare combination of speed and power, for which he must find a balance in order to turn in the kind of season that the Reds expect of him. Perhaps making a few minor adjustments at the plate, including laying down an extra bunt here or there will help Stubbs regain confidence in himself overall. I believe he will find that balance and his confidence on his way to an impressive season, that includes at least 100 runs scored, and 50 stolen bases.
@Redlegs_Review's pick:
Drew Stubbs
-The franchise continues to believe in the potential of Drew Stubbs. With that in mind, so do I. Cincinnati's centerfielder regressed a little bit in 2011, however, part of that was due to his inability to simply put the ball in play. The former Texas Longhorn set a new club record with 205 strikeouts, but did manage to swipe 40 bases. Look for Stubbs to take a new approach at the dish this season as he attempts to raise his average and on-base percentage. Defensively, one can expect the same defensive prowess out of him as usual. He covers more ground at his position than perhaps any other player in the division...if not league.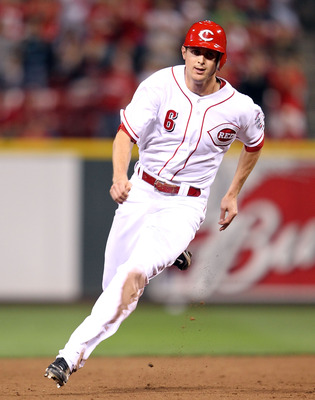 Honorable mentions go to:
Scott Rolen

and

Bronson Arroyo
And in case you want to look back on a prior post, or just want to look ahead...
2012 season predictions schedule:
Monday: Offensive MVP
Today: Defensive MVP
Wednesday: Pitching MVP
Thursday: Most Improved
Friday: Top Newcomer
Saturday: Player Poised for Breakout Year
Sunday: Top Rookie
Monday: Potential All-Stars