Today begins an 8-part series of posts highlighting our predicitions for the upcoming season. While we don't profess to having a crystal ball in our possession, we do have our knowledge (as limited as it may be) and our gut instinct to aide in our decision. And both our minds and our guts are guiding us to make the following choice for 2012 Reds Offensive MVP:
@RedlegsWriter's pick:
Joey Votto
-Do I need to explain myself? No, but I will. With Albert Pujols and Prince Fielder in the American League, Votto is no doubt the best first baseman left in the National League. He already has one NL MVP award under his belt from 2010. He finished sixth in NL MVP voting in 2011 due to his "down" year of .309, 29 HR, and 103 RBIs. With the Reds poised to return to the postseason in 2012, it's no question that Votto will be leading the way by example as the team's best hitter and best player.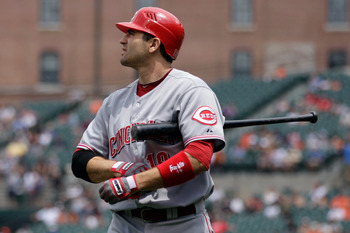 Votto led the league in walks, doubles and OBP in '11
@Redlegs_Review's pick:
Joey Votto
-This one really is a no-brainer. Votto is not only the Reds' best hitter, but is among the league's elite hitters as well -- and has been for a few years now. The 28-year old will likely lead the club in every major offensive category under the sun again in 2012 ang may even bring home his second MVP award in three seasons. Fans in the Queen City should not take for granted the opportunity to see one of the best left-handed bats the franchise has ever boasted -- for there is no guarantee the Canadian native will remain in Cincinnati beyond 2013.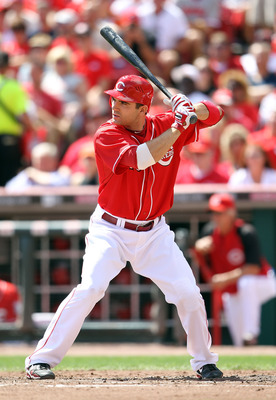 He led the team in RBIs, AVG, SLG, &
RS, among other categories
Honorable mentions go to:
Brandon Phillips

&

Jay Bruce
Here's the full schedule for the season predictions series:
Today: Offensive MVP
Tuesday: Defensive MVP
Wednesday: Pitching MVP
Thursday: Most Improved
Friday: Top Newcomer
Saturday: Player Poised for Breakout Year
Sunday: Top Rookie
Monday: Potential All-Stars