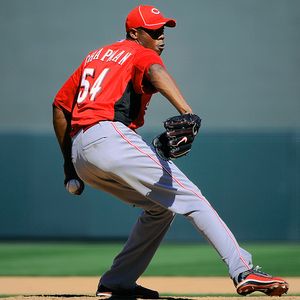 Chapman is looking to "breakout" in 2012. Will he?
How do you project a player that doesn't even have a known role on the squad yet? I'm not sure, but that's exactly what we're attempting to do today with
Aroldis Chapman
.
After using the southpaw as a reliever for each of the past two seasons, the club opted to tab him as a starter this past winter. But because of various injuries to some of the team's relievers, coupled with the fact that the Reds' starting rotation is pretty much set (and has been for awhile now), the Cuban Missile may find himself in the bullpen again in 2012. Of course, one can't rule out the possibility of him starting the year in Triple-A as a starter either.
But for now we are left with having to guess his fate for the sole purpose of projecting his season numbers. Luckily, I've drawn from four different sources to help me in my endeavour. They are as follows:
BG:
baseballguru.com
RC:
rotochamp.com
ZiPS:
baseballthinkfactory.org
ESPN:
espn.com
And here are their respective projections for the left-hander:
BG: 4.13 ERA, 53 IP, 1.43 WHIP, 10.2 K/9, 2.0 K/BB
RC: 3-3, 3.45 ERA, 1.28 WHIP, 85 Ks, 68 IP
ZiPS: 6-5, 3.87 ERA, 57 GP (7 GS), 98 Ks, 76.7 IP
ESPN: 7 wins, 3.44 ERA, 1.37 WHIP, 102 IP, 143 Ks
Career avg (2 yrs): 3-1, 3.27 ERA, 1.247 WHIP, 12.8 K/9
Well, if you subscribe to these projections they view Chapman as a reliever/spot starter for the upcoming season. I would say that's pretty realistic. The 24-year old will probably begin the year out of the 'pen and will be the first or second option to start should the injury bug bite one of the current starters. However, I wouldn't be the least bit surprised if he spent a large of chunk of time in Louisville fine tuning himself as a starter...or in a better scenario, he emerges alongside Johnny Cueto and Mat Latos as an elite starting pitcher by year's end. We can only hope for the latter to turn out true, but for now we wait and watch as the saga of Chapman continues to unfold before our very eyes.
And in case you missed it...
You can view past player projections by clicking on the following links
:
Jay Bruce
Joey Votto
Brandon Phillips
Johnny Cueto
Ryan Madson
Mat Latos
Bronson Arroyo
Homer Bailey
Mike Leake
Scott Rolen
Drew Stubbs
Chris Heisey
Ryan Ludwick
Sean Marshall