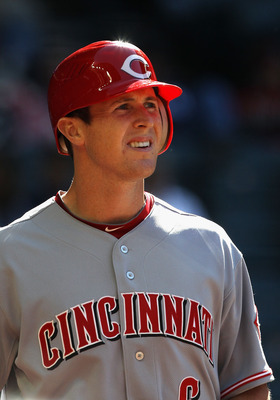 The speedy Stubbs is eyeing to bury a
disappointing 2011 in favor of a better '12
The Cincinnati outfielder is entering his third full season in the majors this year and one can only hope that this one turns out better than his last. Despite swiping a career high 40 bases (T-2nd most in NL) in 2011, the former Texas Longhorn also saw declines in batting average, homers, RBIs, on-base percentage and WAR. Oh, and did I mention he went down on strikes a club record and league-leading 205 times last year?
But despite struggling mightily at times during his sophomore campaign, the team remains confident that he'll rebound strong in 2012. And rightfully so. The 27-year old possesses a unique blend of speed, size and power. Whether or not he can put it all together in a single season still remains to be seen, but the beginning of a new year gives way to the promise that he can.
To help give a better idea of what this upcoming season may hold for him, I've dug up projections from four different sources. They are as follows:
BG:
baseballguru.com
RC:
rotochamp.com
ZiPS:
baseballthinkfactory.org
ESPN:
espn.com
And here are their respective projections for Stubbs:
BG: .238/.314/.410, 18 HR, 50 RBIs, 25 SB, 73 RS
RC: .247/.325/.391, 18 HR, 73 RBIs, 35 SB, 73 RS
ZiPS: .240/.317/.388, 17 HR, 60 RBIs, 37 SB, 87 RS
ESPN: .241/.315/.373, 15 HR, 50 RBIs, 37 SB, 83 RS
Career avg (3 yrs):
.251/.325/.406, 18 HR, 58 RBIs, 33 SB
In my opinion, it is completely plausible for Stubbs to surpass all of these projections. Not only do I think no. 6 will cut down on his strikeout total, but the experience of two full seasons under his belt will aide in his pursuit as well. And with no obvious threat behind him on the depth chart the club is going to ride him as their everyday center fielder regardless. So, rain, shine, struggle or success, Stubbs is destined to rack up 150+ games played once again this year. Let's just hope he doesn't accumulate 200+ Ks as well.
What kind of numbers do YOU see Stubbs posting this season?
And in case you missed it...
You can view past player projections by clicking on the following links:
Jay Bruce
Joey Votto
Brandon Phillips
Johnny Cueto
Ryan Madson
Mat Latos
Bronson Arroyo
Homer Bailey
Mike Leake
Scott Rolen