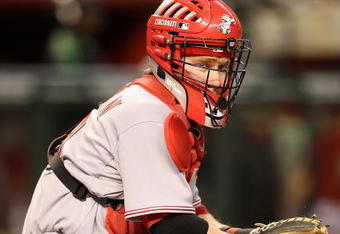 Ryan Hanigan
has become a bit of a fixture with the Reds and I've got to believe fans are completely okay with that. The 31-year old is entering his sixth season with the club, thus making him one of the longest tenured players on the roster. But unlike the work force, seniority means very little in the professional baseball landscape. Hanigan will now be charged with tutoring Devin Mesoraco to eventually take over the catching duties full-time. Will Hanigan surrender the position easily, or will the Washington, D.C. make it hard to give the starting nod to someone else?
To help give us a better idea of whether or not he can, I've compiled projections from three various sources. They are as follows:
RC: rotochamp.com
ZiPS: baseballthinkfactory.org
ESPN: espn.com
Here are their respective projections for Hanigan:
RC: .293/.386/.389, 6 HR, 33 RBIs, 39 RS
ZiPS: .267/.358/.355, 5 HR, 31 RBIs, 9 2B
ESPN: .274/.367/.361, 5 HR, 32 RBIs, 28 RS
2011 stats: .267/.356/.357, 6 HR, 31 RBIs, 27 RS

So, as you can see all three projections are pretty similar...and for the most part seem pretty realistic. Hanigan will likely split playing time with Mesoraco much like he did with Ramon Hernandez over the past few seasons. If that's indeed how things shake out, expect Hanigan to chip in a little offense here and there, but nothing to "write home about".

And in case you missed it...
You can view past player projections by clicking on the following links
:
Jay Bruce
Joey Votto
Brandon Phillips
Johnny Cueto
Ryan Madson
Mat Latos
Bronson Arroyo
Homer Bailey
Mike Leake
Scott Rolen
Drew Stubbs
Chris Heisey
Ryan Ludwick
Sean Marshall
Aroldis Chapman
Zack Cozart
Devin Mesoraco