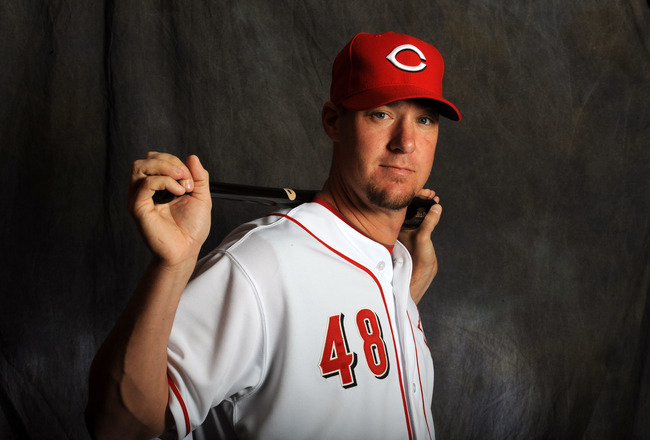 Ludwick was brought in over the winter to provide extra punch
to the batting order. Is he capable?
The 33-year old outfielder is entering his first season in the Queen City and 10th overall for his career. Reds fans probably remember
Ryan Ludwick
best from his time spent as a St. Louis Cardinal, and it's interesting to note that he's accumulated more homeruns (11), more RBIs (41) and more doubles (16) against the Reds than any other MLB team in his career. Yes, a real "Reds killer" indeed. And as fate would have it former Cards GM
Walt Jocketty
inked him to a free agent deal this offseason. His assignment? To add a much-needed, right-handed run-producing bat in the middle-of-the-lineup to compliment
Jay Bruce

and

Joey Votto
. Of course, he won't have to do it alone as many expect him to split duties in left with
Chris Heisey
.
So, what can we expect from the Reds' latest free agent signing in 2012? I'm glad you asked. I've dug up projections from four different sources to help give us a better idea of what one can expect from him this year. They are as follows:
BG:
baseballguru.com
RC:
rotochamp.com
ZiPS:
baseballthinkfactory.org
ESPN:
espn.com
And here are their respective projections for Ludwick:
BG: N/A
RC: .243/.318/.389, 9 HR, 34 RBIs, 34 RS
ZiPS: .253/.322/.430, 20 HR, 89 RBIs, 64 RS
ESPN: .249/.317/.404, 9 HR, 46 RBIs, 34 RS
Career
avg (9 yrs): .261/.332/.455, 20 HR, 81 RBIs, 24 2B
Well, I think I speak for every Reds fan when I say that they'd take the ZiPS projection from Ludwick in a heartbeat. But it's important to note that ZiPS is projecting him to get nearly 200 more at-bats than the other sources. Personally, I don't see why he couldn't be able to reach those numbers. He's just three and half years removed from a season in which he batted .299 with 37 longballs and 113 RBIs.
There's just three variables to consider with Ludwick, in my opinion. How much playing time will he share with Heisey? How will the transition to hitter-friendly Great American Ball Park impact his production? And can his consistent decrease in productivity the past few years be attributed to increasing age, or the home venue he played in (PETCO Park)? The coming months should provide answers.
And in case you missed it...
You can view past player projections by clicking on the following links:
Jay Bruce
Joey Votto
Brandon Phillips
Johnny Cueto
Ryan Madson
Mat Latos
Bronson Arroyo
Homer Bailey
Mike Leake
Scott Rolen
Drew Stubbs
Chris Heisey