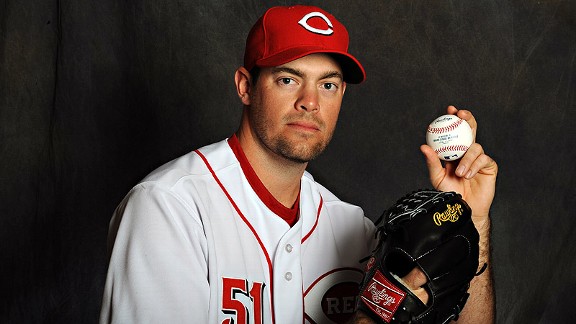 Will the 29-year old post an ERA below 2.70 for the
third consecutive season?
It may have cost the Reds an arm (Travis Wood), a bat (Dave Sappelt) and a minor leaguer (Ronald Torreyes), but what they got in return was
Sean Marshall
this offseason -- a player who most around the league consider to be one of the top left-handed relievers in the game, if not THE best.
The VCU grad appeared in a whopping 78 games last season while posting a gaudy 2.26 ERA and 4.65 BB/K for the Cubs. The year prior to that he posted a 2.65 ERA and 10.9 SO/9 in 80 appearances. If those numbers aren't enough to intimidate opposing hitters, perhaps his towering 6'7" frame will suffice.
What will the 2012 season hold for Mr. Marshall? I'm glad you asked. Here are projections from four sources that attempt to pinpoint his season statline. They are as follows:
BG:
baseballguru.com
RC:
rotochamp.com
ZiPS:
baseballthinkfactory.org
ESPN:
espn.com
And here are their respective projections for Marshall:
BG: 67 GP, 2.88 ERA, 3.2 K/BB, 1.09 WHIP, 69 IP
RC: 65 IP, 2.49 ERA, 3-3, 1.15 WHIP, 69 Ks
ZiPS: 76 GP, 2.74 ERA, 8-3, 1.03 WHIP, 72.1 IP
ESPN: 82 GP, 3.12 ERA, 6 wins, 1.15 WHIP, 9.46 K/9
Career avg (6 yrs): 3.96 ERA, 1.330 WHIP, 2.3 K/BB, 8.7 H/9
Needless to say, this team is going to be in good shape in the late innings this year. With Marshall as their setup man, and
Ryan Madson
as their closer, you can pretty much chalk up a victory anytime Cincinnati takes a lead into the eighth inning and beyond.
And in case you missed it...
You can view past player projections by clicking on the following links:
Jay Bruce
Joey Votto
Brandon Phillips
Johnny Cueto
Ryan Madson
Mat Latos
Bronson Arroyo
Homer Bailey
Mike Leake
Scott Rolen
Drew Stubbs
Chris Heisey
Ryan Ludwick