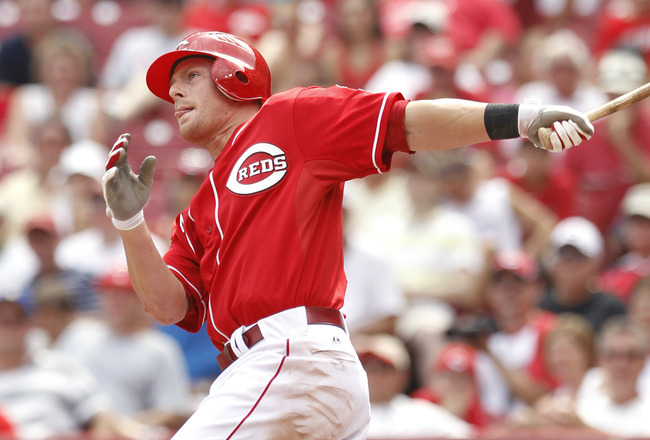 Cozart leads a trio of Redlegs who made the list
In yet another fantasy baseball-related post, Kevin Goldstein of
ESPN Insider
recently ranked his "
Top 50 Fantasy Prospects
" for the 2012 season. The list includes only those players who still hold rookie status, and their rankings were based solely on their fantasy impact for now rather than in the future.
So, without further adieu here are the three members of the Reds who made the list. Their respective ranking and write-up on them is included as well.
6.
Zack Cozart
, SS, Reds
Background
: When the Reds selected Cozart in the second round of the 2007 draft, it was more for his glove than his bat. Once his offensive game finally developed, he was ready to take over as the Reds' starting shortstop. He was called up in July 2011 to replace the offensively nonexistent
Paul Janish
, but an elbow injury ended his first big league campaign after only 11 games. Thus he maintains rookie status, and sits comfortably on this list.
What he can do
: While Cozart is still not an especially adept hitter, he has developed the secondary skills to give him unique value considering the position he plays. While he might hit just .250, how many shortstops can give you 15 stolen bases and 15 homers (with a little help from his home ballpark)?
Playing-time situation
: Cozart is healthy and expected to be the every-day shortstop in Cincinnati.
Long-term value
: Cozart will be in the big leagues for a long time, but he's not a player with a ton of growth potential. His inability to hit for average likely will keep him away from stardom.
11.
Devin Mesoraco
, C, Reds
Background
: The Reds' first-round pick in 2007, Mesoraco was starting to hear whispers of a bust label following two uninspiring minor league seasons. But he improved his conditioning, had a breakout 2010 and proved it was for real in 2011 en route to reaching the big leagues.
What he can do
: Mesoraco is a rare fantasy commodity as a catcher who can hit, and hit for power. In 190 games at the upper levels of the Reds' system, he has hit .286 with 31 home runs, and the scouting reports match those numbers.
Playing-time situation
: For a catcher who has the potential to hit .270 with 20 home runs, Mesoraco could rank higher, but all indications are that he will be eased into the starting role by sharing playing time with
Ryan Hanigan
.
Long-term value
: Mesoraco is the Reds' catcher of the future, and a potential All-Star down the road.
33.
Todd Frazier
, OF/IF, Reds
Background
: Frazier has been in the spotlight for a long time; he led his team to a Little League World Series title in 1998. A supplemental first-round pick in 2007, Frazier has made a slow but steady climb through the system while dealing with numerous position switches.
What he can do
: Frazier can do a little bit of everything. Batting average could be an issue, as his career average at Triple-A is just .262, but in 90 games there last year, he compiled 15 home runs and 17 stolen bases. He won't be that kind of speed threat in the big leagues but should at least contribute in the category. He played five positions for Cincinnati last year, and for leagues in which just one game can provide position eligibility, he can be an emergency shortstop.
Playing-time situation
: Frazier will battle for a bench job this spring, and his versatility helps his cause.
Long-term value
: There are still some scouts who see Frazier as a potential second-division starter at third base or left field, but the most likely scenario is a role as a super-sub who gets 300-plus at-bats.
On a side note, two former Reds also appeared on the list -- San Diego's Yonder Alonso (no. 8) and Chicago's Dave Sappelt (no. 49).