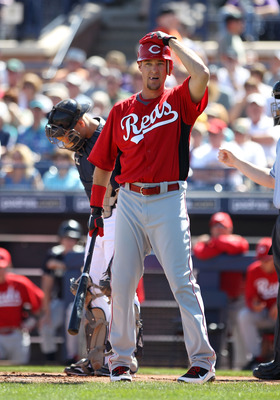 Ludwick may have gained some favor
with fans after one swing of the bat
Goodyear, Arizona --
Ryan Ludwick
couldn't have picked a better time to unleash his first homer of the preseason on Wednesday, as his two-out, two-run dinger in the bottom of the ninth sent the Reds (11-16-1) past the visiting Angels (15-10) 5-4.
Bronson Arroyo
made the start and pitched relatively well for his club to help snap a 4-game losing skid. Here's a recap of the good, the bad and the notables from the affair:
The Good:
- Arroyo turned in an excellent outing. The right-hander tossed six innings and limited the Halos to four hits and two runs. He struckout five and walked only one.
-
Brandon Phillips
followed up a 4-5 game yesterday with a 2-2 showing today. He scored a run and also swiped a base.
- On the note of stolen bases, the Redlegs have successfully stolen 28 of 'em in 33 attempts this spring (85%).
-
Ryan Hanigan
doubled, singled and drove in a run in two plate appearances.
-
Paul Janish
hit a homerun, that's not a type. The light-hitting infielder muscled up in the eighth to record his first jack since God knows when.
-
Logan Ondrusek
notched the win after hurling two innings perfect baseball.
- Reds hitters went down on strikes on just four occasions.
The Bad:
- Left-handed prospect
Travis Webb
(not to be confused with Travis Wood) yiedled a two-run homer in his lone inning of work. It was the only hit he allowed, but he did walk two.
-
Todd Frazier
was hitless in three trips to the dish. His batting average now stands at .227.
-
Joey Votto's
preseason average dipped to .214 after an 0-for-2 day.
The Notables:
- Cincinnati arch-nemesis Albert Pujols did not see action in the contest.
- The team trimmed the roster down to 30 on Wednesday as
Corky Miller
,
Dioner Navarro
and
Daryl Jones
were all assigned to the minor league camp.
- It was also announced that
Nick Masset
will begin the year on the 15-day DL due to inflammation in his shoulder -- @RedlegsWriter was all over it earlier in
this post
. The loss of Masset further complicates the decision on what to do with
Aroldis Chapman
. And Opening Day now looms just a mere week away.
- Up next for the Reds is a road bout with the Milwaukee Brewers on Thursday. Chapman looks to continue his impressive showing this spring opposite of Randy Wolf (3-0, 3.26 ERA).
Mike Leake
and and
Bill Bray
are also scheduled to pitch. The game is scheduled to begin at 4:05 PM ET.
-
Homer Bailey
,
Sam LeCure
and
Jose Arredondo
will pitch in a minor league game on Thursday as well.