Today's NL Central preview features the divisional foe that offers the least resistance to the Reds' title hopes -- the Houston Astros.
One word can sum up the Astros franchise right now; "rebuilding". In fact, you could make a compelling case that no team has undergone more changes over the past year than they have. After falling way out of contention by July the club opted to trade its two best players at the deadline in Michael Bourn (Braves) and Hunter Pence (Phillies). Things only got worse for the fledgling 'Stros at that point as they went on to post their first 100-loss season in franchise history.
After much delay and controversy the team was officially sold to local businessman Jim Crane in November. The deal was contingent on a $70 million concession offered by MLB in exchange for Crane to accept a switch of his new club from the National League Central to the American League West (effective 2013). The 2012 campaign will obviously mark the last season for them in the NL -- a league in which they've been a part of since their inception as the Houston Colt .45s in 1962.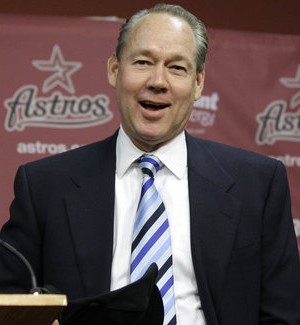 Crane is responsible for a massive
rebuilding effort in Houston
So, what lies in store for Houston this upcoming season? The answer is likely another forgetful one. The roster is mixed with young, unexperienced players and veterans castoffs alike, and the prospect of a winning season seems well...improbable to say the least. And worst of all, Crane knows this. That's why he announced plans to lower tickets prices, allow outside food and beverages into Minute Maid Park, and consider a possible uniform (identity) change.
Nonetheless, here is an attempt at previewing their season:
Notable Additions
: RF Jack Cust (Signed as free agent on 1/18), LHP Zach Duke (Signed as free agent on 1/27), RHP Livan Hernandez (Signed as free agent on 1/31), SS Jed Lowrie (Acquired via trade from BOS on 12/14)
Notable Losses
: SS Clint Barmes (Signed as a free agent with PIT on 11/24), RHP Mark Melancon (Traded to BOS on 12/14), OF Jason Michaels (Signed as a free agent with WSH on 12/11)
Youngsters to watch
: 1B Brett Wallace, RHP Jordan Lyles
Manager: Brad Mills (132-192, 3rd season)
2011 payroll: $69.97M (20th in MLB)
Avg. home attendance: 25,992 (19th in MLB)
2011 records:
Overall: 56-106 (Worst in MLB)
Home: 31-50
Road: 25-56
Vs. NLC: 28-50
2012 Exp W/L: 60-102
Notable 2011 stat rankings:
Runs - 26th (615)
HRs - 29th (95)
AVG - T-9th (.259)
SBs - T-12th (118)
ERA - 28th (4.51)
BAA - 26th (.266)
WHIP - 28th (1.42)
Errors - T-25th (116)
Projected lineup
:
CF Jordan Schafer
2B Jose Altuve
LF J.D Martinez
1B Carlos Lee
RF Brian Bogusevic
SS Jed Lowrie
3B Jimmy Paredes
C Chris Snyder
Projected rotation
:
LHP Wandy Rodriguez
RHP Bud Norris
LHP J.A. Happ
RHP Henry Sosa
LHP Kyle Weiland
CL Brett Myers
Best case scenario
: The starting rotation turns out to be formidable and the rag-tag offense manages to produce some runs here and there. The Astros win games by being scrappy and keeping the score low. Carlos Lee finally earns his $19M salary by staying healthy, driving in runs, and making the All-Star team. Meanwhile, the bullpen holds up and the younger guys you haven't heard of yet make a name for themself by season's end. They manage to stay out of the divison cellar after year one of the Theo Epstein era in Chicago is an utter failure.
Final record: 68-94 (5th place in NL Central)
Worst case scenario:
The abscence of any real threat in their batting order is felt terribly. They can't score runs. And with their washed up starting rotation and incompetent 'pen they can't hold opponents from scoring them either. They become in danger of losing 120 games in a season. The fans stop coming to games even in spite of lower ticket prices. Hope is lost. They become a Triple-A team in the minds of their peers. American League clubs lick their proverbial chops in anticipation of walking all over the helpless 'Stros come 2013.
Final record: 48-114 (6th place in NL Central)
What are your expectations of Houston this season? Could they actually surprise some people? Or will they struggle like many expect them to do?
Here's the schedule for the rest of the week
:
Tuesday: Chicago Cubs
Wednesday: Pittsburgh Pirates
Thursday: Milwaukee Brewers
Friday: St. Louis Cardinals