by: Will Hicks
Staff Writer
Today's preview looks at the Milwaukee Brewers. The Brewers look to defend their title as the reigning NL Central champions, but may be hard-pressed to do so after dealing with a stressful off-season for the organization. As a result of the media storm that comes with a (failed?) drug test while also losing the star of your team, this season could be hit-or-miss and therefore hard to predict.
As with most teams pitching plays a key role in any long-term success and the Brewers have a solid above average rotation. Therefore the success (or failure) of this season leans heavily on two issues. 1. How do you (and can you?) replace All-Star and Slugging First Baseman Prince Fielder? And 2. Can Ryan Braun continue to put up MVP numbers despite the drug test fiasco?
It is clear the lack of any suspension for Braun greatly helps the team. Losing Braun AND Fielder might have been too much to overcome. However, it is unclear how the increased media attention and speculation will affect the team. A team that I think is often overlooked and forgotten on the national stage. Will the stress get to the young star Braun if he struggles at all to start the season? Will the Brewers be able to keep and sustain their fun, crazy and wacky outgoing style that lead to 2011's success without Ring Leader Fielder?
The team certainly has the talent to compete in the Central this year, it's just a matter of team chemistry and everyone producing to their best ability. (But isn't that how all teams are?) Expect them to contend with top teams of the division as that group leaves the Pittsburgh Pirates, Chicago Cubs and Houston Astros well behind.
Enough with all the words, here are some statistics to look at…….
Notable Additions:
3B Aramis Ramirez, SS Alex Gonzalez, RHP Jose Veras
Notable Losses:
1B Prince Fielder (DET), SS Yuniesky Betancourt (KC), UTL Jerry Hairston Jr. (LAD), RHP Takashi Saito (ARI), RHP LaTroy Hawkins (LAA), RF Mark Kotsay (SD)
Youngsters to watch
: RHP Taylor Jungmann LHP Jed Bradley
Manger: Ron Roenicke
2011 payroll: 85.5 Million (7th in MLB)
Avg. home attendance: 37,918 (6th in MLB)
2011 records
:
Overall: 99-66
Home: 57-24
Road: 39-42
Vs. NLC: 51-27
Notable 2011 stat rankings
:
Runs- 11th (721)
HRs- 6th (185)
SBs- 21st (94)
ERA- 9th 3.63
BAA 8th (.286)
WHIP- 4th (1.240)
Errors- 22nd (111)
Projected Lineup
:
2B Rickie Weeks
CF Nyjer Morgan
LF Ryan Braun
3B Aramis Ramirez
1B Mat Gamel
SS Alex Gonzalez
C Jonathan Lucroy
RF Carlos Gomez
Projected Rotation
:
RHP Yovani Gallardo
RHP Zack Greinke
RHP Shaun Marcum
LHP Randy Wolf
LHP Chris Narveson
CL John Axford
Best Case scenario
: One of the best pitching rotations helps carry the team through the expected offensive decline that comes with losing Prince Fielder. Ryan Braun puts up MVP numbers again and Nyjer Morgan keeps as calm as he can be until an expletive-laden celebration of another NL Central championship. They make a run in the postseason but don't quite make it to the World Series.
Final record: 93-69 (1st place in NL Central)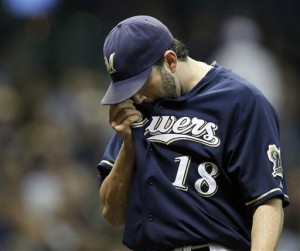 Worst Case Scenario:
The pitching staff struggles while battling inconsistency and injuries. Ryan Braun can't handle the pressure and puts up mediocre numbers. There is simply no replacement to be found for Prince Fielders' bat or personality and the whole team suffers. And Nyjer Morgan goes ballistic shortly after the all-star break as the team fades out of contention. But even worst-case, they still finish 4th in the division, ahead of the Cubs and Astros.
Final record: 76-86 (4th place in NL Central)
And in case you missed a preview from earlier this week...


NL Central preview schedule:
Monday:
Houston Astros
Tuesday:
Chicago Cubs