Continuing on with our
mini-series from yesterday
, here's part two featuring some of our predictions for the upcoming season. Today we breakdown the best and worst case scenarios, as well as a bold prediction for the year:
Bold prediction:
@
RedlegsWriter
- Mat Latos wins 21 games and the NL Cy Young Award.
- Scott Rolen wins the 2012 NL Comeback Player of the Year Award. Also, Dusty Baker goes one whole inning without chewing a toothpick after repeated dares by @DatDudeBP.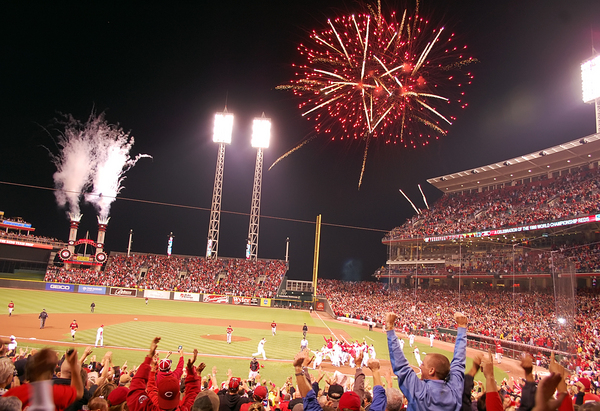 Best case scenario:
- Latos really does win the Cy Young, and Johnny Cueto is not far behind or vice-versa. Scott Rolen channels his inner Ponce de Leon, and in search of the fountain of youth, plays 130 games in another All-Star season. Joey Votto wins another NL MVP and proves that he is not just the best first baseman in the NL, but all of baseball. Drew Stubbs shows flashes of 1987-1988
Eric Davis
. Click him and
check it. The Reds roll into the playoffs behind their 1-2 punch dubbed "Cuatos," and secret weapon left-handed STARTING pitcher Aroldis Chapman. Hometown boy Andrew Brackman gets the win in relief at Great American Ball Park, as the Reds win the World Series on yet another dramatic, walk-off home run by Jay #Bruuuuuce.
@
Redlegs_Review
- The Reds win the "whole enchilada" and somebody finally hits that damn Toyota Tundra in centerfield, thus winning the elusive vehicle. Oh, and Fox Sports Ohio brings back those classic JTM commercials featuring Bronson Arroyo (Look for a more detailed best case scenario post in the coming days).
Worst case scenario:
@
RedlegsWriter
- Everything I mentioned in the last post, turns out negative. Latos is mediocre. Bailey is worse than that. Bronson Arroyo is even worse. Zack Cozart channels his inner Paul Janish, while Devin Mesoraco gives way to Ryan Hanigan, to whom the burden of playing most of the games becomes too much. On the bright side, a very hot summer in Cincinnati is somewhat neutralized by the circulating air caused by all of the whiffs coming from Stubbs' bat, and the 9,384 fans at GABP stay relatively cool while they grumble in disgust. St. Louis amazingly defends its World Series crown, even without Albert Pujols and Tony La Russa. Dusty Baker and his toothpicks get axed (pun intended) early in the season, and Cincinnatians are actually more excited for the pathetic Bengals than the Reds.
- Cincinnati follows a disappointing 2011 campaign with an even more disappointing one in 2012. Dusty Baker gets canned. Brandon Phillips gets denied a contract extension and walks in free agency. Mat Latos struggles mightily and takes his frustration out on a couple of water coolers. Drew Stubbs becomes the only player in MLB history to strikeout 250 times in a single season – killing an infinite number of nats in the process. Bronson Arroyo suffers whiplash after giving up so many homers and Homer Bailey literally gets his socks knocked off by a line drive (Charlie Brown style). Joey Votto expresses his desire to sign with another team once he hits free agency. The Pirates finish above the Reds in the standings. The Cardinals sneak into the playoffs again and make another improbable run to a World Series title. Folks around the Queen City are buzzing about the anticipation of Bengals football by mid-July. Nobody hits the Toyota Tundra and those epic JTM ads never air.
One final prediction by RR reader @jgranger
-Same prediction I've made every year for the last 35 years: 162-0, World Series Champs. The law of averages insists that I'll be right one of these years.