Valdez provides versatility off the bench
Monday provided no shortage of Reds chatter as several newsworthy happenings arose from camp. Here's my best to get you caught up on everything that transpired:
First off, the team finalized their Opening Day roster by optioning
Paul Janish
to Triple-A Louisville.
Todd Frazier
, non-roster invite
Willie Harris
,
and offseason acquisition
Wilson Valdez
were the last three position players to make the cut.
"There's a good chance he could be back at some point. There's a great chance of that,"
said
Dusty Baker
on Janish.
"Very tough decision, he's still part of the family."
The decision to keep Valdez, Frazier and Harris means the club will carry 14 position players. It also means that the Redlegs will begin the year with just 11 pitchers due to injuries to
Nick Masset

and

Ryan Madson
. However,
an off day on Friday should help guard against a potential shortage of fresh arms.
Speaking of pitchers, it was also announced on Monday that
Aroldis Chapman
will serve as a reliever...at least for now. The team was forced to allocate Chapman's arm to the 'pen in spite of a lackluster spring by
Homer Bailey
in addition to
Bill Bray
not being up to speed yet. Consequently, the starting rotation is set and will be comprised of
Johnny Cueto
,
Mat Latos
,
Bronson Arroyo
,
Mike Leake
and Bailey.
When asked what Chapman's long-term future would be Baker had this to say,
"He's going to be a starter, a very good starter. He's on board with with it. He anticipated it. He's a smart kid. He said he thought as much because he lost (Nick) Masset and (Ryan) Madson. Bray isn't as sharp. He's not a candidate to be a late-inning lefty guy."
Perhaps the biggest bombshell on the day was the
report by mlbtraderumors.com
that the team and
Joey Votto
were close to a long-term contract extension. The slugger confirmed the rumor to John Fay of the Enquirer when asked later in the day,
"I can't comment till it's done. You'll have to ask Walt [Jocketty]. It's a gray area
."
The details of the potential deal are pure speculation at this point, but Jon Heyman of
CBSSports.com
tweeted out that it could be good for ten years, which would keep him in the Queen City through the end of the 2021 season. Votto is currently slated to earn $26.5MM through 2013 on an extension he inked last winter.
Initial reactions by Reds fans seem to be mostly positive, however, some are concerned with 1) what this might mean for All-Star second basemen
Brandon Phillips
and his pursuit of his own extension, and 2) the risk involved in allocating that much payroll (25-30%) to one individual player.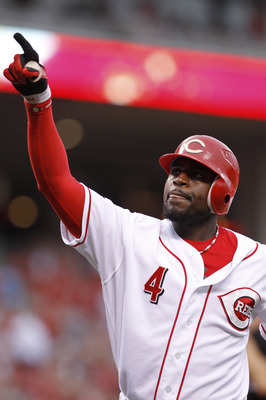 Does 2012 mark the
farewell tour for BP?
The team and Phillips have reportedly been in talks on an extension since the end of last season, but have yet to reach an agreement. And with the news on Monday regarding Votto, the prospects now look grim that he'll remain a Red beyond 2012. The All-Star second basemen is set to hit free agency this offseason after his current 1yr/$12MM deal expires.
While this is certainly not good news in Phillips' hopes of remaining in Cincinnati, the organization might very benefit both in the short and long-term because of it. Phillips will undoubtedly carry a chip on his shoulder to prove his worth in what is now looking to be a "contract year". Players playing in the last season of their contract typically experience greater success on the diamond either by coincidence, sheer luck, or motivation. This is a short-term win for the Reds.
The Reds also benefit in the long-term because they lock-down one of the best players in all of baseball for a decade to come. At age 28 Votto is entering the prime of his career and could very well go down as one of the greatest hitters in not only Reds franchise history, but Major League Baseball as well.
Update (6:35 PM): Ken Rosenthal of FOXSports.com has reported the extension to be worth an additional $173MM for eight years...10yrs/$200MM in all.