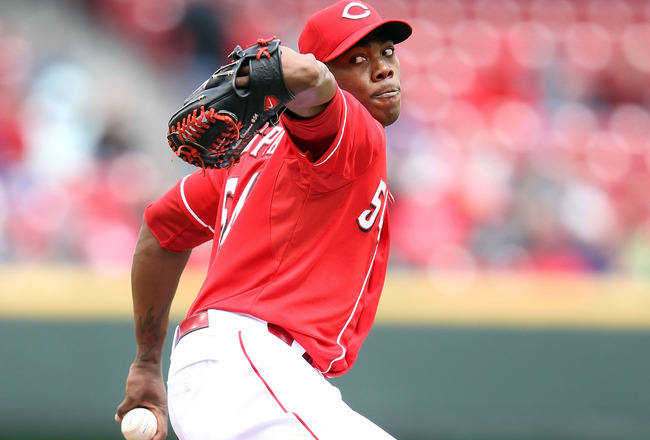 Chapman is off to a strong start in 2012
During the course of a rigorous, 162-game schedule you'll find that all players experience hot streaks and slumps. It's just part of the game. So, what's the the key then? It's easier said than done, but it's to minimize the down times and maximize the good ones. That's what seperates the elite from the rest of the pack.
With that in mind, here are some Reds who are either lighting up the stat sheet or struggling just to get by right now:
Who's Hot

:
*
Drew Stubbs
- The speedster is hitting .375 (9-24) with one HR, four RBIs, two SB, and 13 TB against just three strikeouts in his past six games.
*
Devin Mesoraco
- The rookie catcher has five hits in his last 11 at-bats and is currently sporting a .304 season average with a .407 OBP.
*
Ryan Ludwick
- Over the past week (five games) Ludwick is 5-for-18 (.278) with two HR, six RBIs, one 2B, and three RS.
*
Aroldis Chapman
- The southpaw has appeared in six games on the year while accumulating nine innings pitched. He's yet to allow a run, has limited opponents to just three hits (.100 BAA) and has fanned a whopping 17 batters. He's also 2-0. If there was a "Who's on Fire" category for this post, he'd be in it.
*
Bronson Arroyo
- Over his past two starts the right-hander has posted 15.1 innings of eight-hit, five-run (only three earned) baseball (1.80 ERA). He earned the victory in one of those outings and has walked just one batter all season long. His season WHIP stands at 0.88.
Who's Not:
*
Willie Harris
- Harris has just two hits in 23 at-bats (.087) on the year (both doubles).
*
Scott Rolen
- The 36-year old is batting .167 (8-48) no HR, 2 RBIs and 10 strikeouts this season.
*
Bill Bray
- Over his last three outings (1.1 IP) Bray has permitted four runs (all earned) on five hits and a walk. His 2012 ERA is currently 13.50.
*
Mat Latos

-
The tall, right-hander is 0-2 with a 8.22 ERA through his first three starts. He's surrendered 21 hits and eight free passes in 15.1 IP. He's throwing a strike just 63% of the time.
*
Sam LeCure
- LeCure has issued three walks, four hits and two earned runs over his last three appearances (2.2 IP).
*
The Defense
- The Reds "D" has committed five errors in the past four games alone. They tallied just three miscues in the 11 games prior.