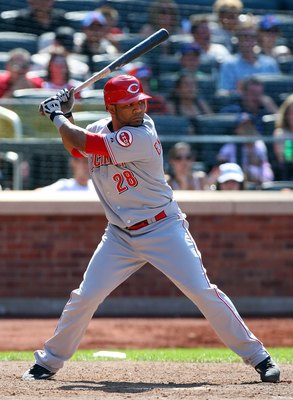 Remember this guy?

There's a hitter in the Toronto Blue Jays lineup that's currently wreaking havoc on opposing pitchers right now and his name isn't Jose Bautista. His name is none other than former Red Edwin Encarnacion, and he's terrorizing American League hurlers without even picking up a glove.

The error-prone third basemen turned designated hitter is thriving in his new role as the Jays' DH. Entering play on Thursday, Encarnacion led the AL in total bases (66), was tied for the league lead in both homers (9) and extra base hits (17), was second in RBI (24), and was third is runs created (24.1). He's also sporting a team high .320 average and 1.057 OPS.
Not too shabby for a guy who the Reds gave up on just two and half years ago. They had seen enough of his sub-par defensive play at the hot corner, coupled with his on-again, off-again bat, that they decided to ship him to Toronto along with pitchers Josh Roenicke and Zach Stewart in 2009 in exchange for future HOF 3B
Scott Rolen
. Although the deal was likely worth it in hindsight due to Rolen's presence in helping get the team back to the playoffs in 2010, Reds faithful may be wondering what could've been had the club kept the talented Dominican native.

Encarnacion has the Bluebirds up north chirping
While it's still very early in the season, one can't help but take notice of Encarnacion's hot start. Perhaps his success has been fueled by his luxury of not having to use a glove? No offense, but his .934 fielding percentage in seven big league seasons suggests that defense isn't his forte.
Or maybe his breakout showing can be attributed to the fact that he's eyeing a new contract after the 2012 campaign? He's in the final year of a 2yr/$6MM deal that pays him $3.5MM this season, but he's obviously looking for a raise as he enters the "prime" of his budding career.

Whatever the reason and/or case may be, there's no denying that Encarnacion is on the brink of a monster individual year. Barring injury, Encarnacion might just finally put up the kind of offensive numbers scouts thought he would when the Texas Rangers drafted him at the age of 17 in the 2000 Draft. And now at the age of 29, and nearly 12 full years later, it appears as though he's on par to do just that. The coming months will provide the answer.