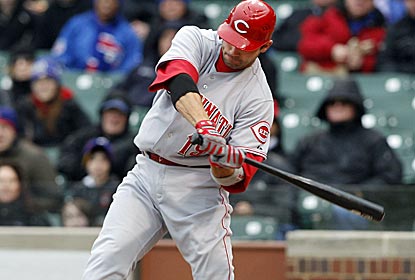 There's a reason why slugging first basemen
Joey Votto
is tied for 14th in the league in RBIs (29) and not among the top of the leaderboard instead--opportunities. The Reds offensive machine simply hasn't had the the number of chances that other players enjoy. ESPN.com fantasy writer Eric Karabell pointed this fact out in one of
his recent columns
. Here's an excerpt from that piece:
Although RBIs are a function of opportunity and not skill (sorry, it's true), Votto is doing his job. This isn't really about the current No. 5 first baseman on the Player Rater, though, but his pals on the team, notably shortstop

Zack Cozart

and outfielder

Drew Stubbs

. Votto is taking his walks, as always, enough to be fourth in the majors in on-base percentage, but put simply, what Votto and the Reds need is for others in the underachieving lineup to, as Steven Tyler famously sang, walk this way.

The Reds rank 26th in the majors in on-base percentage (they were ninth in 2011) and 19th in walks (also ninth in 2011), and that's with Votto's 41 free passes. The next guy on the team boasts 12. Do you know how many Cleveland Indians have walked 13 or more times this season? Eight of them. Last season, Votto led the National League in walks, which is awesome, to some degree, but he also fell short of 30 home runs, and his 103 RBIs tied for 15th. Many still drafted him as an overall top-10 guy, and it's not the right time to wonder whether his production isn't worth that in 2013 drafts, but it sure would be nice if more people just got on base for him.

Here's one more stat for you: There are 61 other hitters who have gone to the plate with more runners on base this season. Votto is tied with Michael Brantley, Jamey Carroll and Freddy Galvis with seeing 108 base runners, which is kind of embarrassing. Please, Zack and Drew, get on base more!
Yes, Karabell is on to something here. Stubbs is the owner of a dismal .299 OBP while Cozart's is even worse at .290. That's much lower than the MLB averages of .318 and .322 at the leadoff slot and no. 2 spot, respectively. And while the Reds and Votto would certainly benefit from having higher on-base percentage guys hitting before him (i.e. Ryan Hanigan), Cozart and Stubbs remain the best options due to their occasional pop and speed. But for the sake of winning and RBI chances for the big guy, everyone would benefit if the two table-setters could show a little more patience at the dish and get aboard more via base on balls. Or if free passes aren't their thing, improving upon their .240 (Stubbs) and .243 (Cozart) batting clips would suffice as well.