by: Mason Kibler
Staff Writer
Dusty Baker
has been known to 'switch it up' more than just about any other manager in baseball. So far in 2012, things have stabilized a bit, and most guys seem to fall into one or two slots--in Dusty's eyes.
Sabermetrics says a lot of things about how a lineup should be set--essentially having nothing to do with speed. The main concept is to get guys on base, then slug them in. Stealing bases, going first to third, or advancing on throws is irrelevant.
Tony LaRussa's method of hitting the pitcher 8th has a lot of merit, as well. Leaving a spot open before the leadoff man allows for the #1 guy to come to the plate--and hopefully, get on base--without the bases clogged in front of him. The obvious disadvantage is the pitcher is statistically more likely to come to the plate with runners on base in the 8-hole than in the 9-hole--assuming the lineup includes players with lower averages at the bottom.
There are numerous philosophies on what makes a solid, run-productive lineup. Here's my personal take on how, and why, the lineup should be set with the current set of 25 guys:
**Please note that the "worst option" category only applies to players who have appeared in that spot in the batting order at least once this season.**
#1 -- The guy who gets on base, doesn't strike out (meaning more opportunities to reach on errors), and isn't a waste of power by hitting ahead of the best hitters. Presence of speed important for scoring from 1st on doubles and getting into scoring position.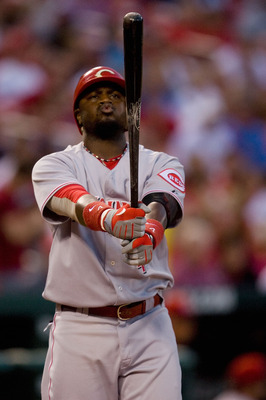 Reds' best option:
Brandon Phillips
Why:
BP only has a .299 OBP, but it is good enough for 5th on the club (not including Leake). The other 4 guys with a better OBP would be wasted in the #1 because of their power and/or lack of speed. BP only strikes out in 14.5% of his plate appearances, 3rd to only Miguel Cairo and Ryan Hanigan. He wouldn't be wasted power--at least not this season--as he is only homering in 1.4% of his PA's and has the worst slugging percentage of all everyday starters. His speed solidifies his role in the 1-hole.
Reds' worst option:
Zack Cozart
(Stubbs and Heisey a close 2nd and 3rd).
Why:
Cozart's OBP is low, his average is even lower, he strikes out a ton, and has only one stolen base. Plus, nearly half of his hits are for extra bases, which would be better suited cleaning up scraps at the bottom.
#2 -- The 2-hole's job is to move runners. Personally, I believe the 'big-inning' style of play is best suited for a team like the Reds, so getting on-base is important when hitting ahead of the team's best hitter. It's also important to take pitches, work counts and be the toughest out in the lineup.
Reds' best option:
Ryan Hanigan
Why:
Here's a scenario--late into a close game, and because a team has a "speedy" 2nd-leadoff type guy in the 2-hole, he legs out a double or singles and steals 2nd. Now, the best hitter on the team is walking to the plate. What would you do? Walk him, and take the bat out of his hands.
I don't think having pop or speed in the 2-hole is important at all. Give me a guy that gets on base more than anyone, and strikes out less than anyone. That means there's almost a guarantee that he'll either advance the runner via an out, or advance the runner, and put himself on right behind him. That's Ryan Hanigan. He has the best average on the team, a .385 OBP and generally works the count well--despite only seeing 3.75 pitchers per PA (league average is 3.80). The reason this isn't a problem for Hanigan is because he has the highest contact percentage on the team (88%) and usually doesn't get out early in counts. Hanigan strikes out less than anyone else, and that's huge batting ahead of you-know-who.
Reds' worst option
: Drew Stubbs
Why:
Stubbs strikes out a lot. Like, a lot-a lot. He also hits homers and clears the bases. Worst possible 2-hole on the team, in my mind.
#3 -- The best overall hitter on the team. In fact, just give me the OPS numbers, and I'll pick my 3-hole, thank you.
Reds' best option:
Joey Votto
Why:
If you really want to know why, consider watching tennis, or something. .304 AVG, .461 OBP, .580 SLUG, 1.041 OPS. And, he draws considerably more 3-1 counts than anyone on the team. That's why.
Reds' worst option
:
Anyone else.
Why:
Because no one else is named "Joey Votto."
#4 -- The clean-up guy has one job. Clear the bases. At least, that's the way it's always been. The #4 is there when the 3-hole doesn't get the job done himself, and there are runners on base that can't be left standing. Also, because the #3 guy gets on base so much, the #4 leads-off less than almost anyone else.
One thing I've always wondered is why teams insist on putting a big home run/strikeout guy in a spot where they are most likely to have a runner on base. Give me a doubles man. A guy to keep a rally going, and trade places with someone on base. To me, there is more to the clean-up man than hitting big flies.
Reds' best option:
Jay Bruce
Why:
He has the third highest OBP and the second highest Slugging and OPS. He will drive in runs a lot more in a spot better suited to having runners on base. The 5-hole (as I'll explain in a minute), leads-off the 3rd most times of all guys in the lineup, and is very likely to come to the plate with the bases empty. The reason being, is that managers tend to put guys in the 4 hole that either clear the bases or end an inning. Bruce also provides way more protection for Joey Votto, because right now, teams aren't afraid to walk JV. The lefty-lefty combo normally wouldn't be a good idea, because of the amount of right-handers on the Reds, but Votto might as well be a switch hitter.
Bruce also has a .561 slugging percentage, while the Reds' 4-hole hitters have only slugged .311 (2nd worst of all batting order spots).
Reds' worst option:
Ryan Ludwick
Why:
He has yet to register a hit in the 4-hole this season (0-14), and only 44% of his hits are extra base hits (well below Bruce's 55%).
He is only slugging .374, and he strikes out more than anyone not named Drew or Todd.
#5 -- Ah, the 5-hole. This role has never really been established--in fact, it's probably nothing more to some teams than a 2nd cleanup guy. In my mind, this is the guy you want going for broke. All or nothing, clean-em or get back on the field. At this point, your best on-base and sluggers have already come and gone, and the team needs to salvage what they can. The 5-hole is, to me, what most teams consider the 4-hole.
Reds' best option:
Drew Stubbs
Why:
Didn't I just tell you? All-or-nothing, remember? That's the definition of Mr. Stubbs. He has enough pop to clear the bases, and a better chance of using his wheels if he does get on base (because of the slugging ability of the players before him). To me, this is a no-brainer, but it obviously hasn't been considered, as Stubbs has only hit in the 5-hole twice in his career (2-2, by the way).
Reds' worst option
: Jay Bruce
Why:
He's not a terrible option here. It's not like he won't, or doesn't, produce in this role. The issue is that his ability is wasted in a slot that doesn't lend to as much run-production as the currently 'un-filled' spot ahead of him.
#6 -- The number 6 hitter has often been referred to as the 2nd-lead-off guy. I tend to agree, but I also think it loans itself to an all-around type of guy. The guy who can hit for power when the first 5-hitters are moving runners along. The guy who can sustain an inning with his legs, protect the power before him, and move along the bases for the lack-of-power hitters below him. It doesn't have to be a guy with the 6th best average--just a guy who can make stuff happen.
Reds' best option
:
Chris Heisey
Why:
Because he does all of those things. He has a decent career OPS, he can run when needed, and is an extra base threat. He can drag bunt for a hit in one at bat, and go deep the next. Plus, with Stubbs ahead of him (in my lineup, anyway), they provide a serious run scoring nightmare for relievers, and give the team a great chance to scrape together a run. Dusty must agree, as Chris has spent most of the year hitting out of the 6-hole.
Reds' worst option:
Ryan Ludwick
Why:
Not many guys have hit in the 6-hole, but Ludwick has shown that he can't do much else besides square up and hit one deep on a rare occasion. If he is going to be in the lineup, he would be best suited in the 5-hole where he can free swing and hope for the best. The 6-hole needs to be a lead runner, and he certainly isn't that.
#7 -- At this point in the lineup, you want a guy who can tack on a random run here and there, and be a pop-option if the team is sending 7-8-9 to the plate late in the game.
Reds' best option:
Todd Frazier
Why:
Todd can hit home runs, he can run a little, and unfortunately for him, doesn't fit perfectly in any other spot. He is, however, good for a 'spark' at the bottom, which is all most teams can really ask for.
#8 -- The number 8 needs to turn over the lineup, get to 2nd on the pitcher's sacrifice bunt , and be a 1-2 out baserunner.
Reds' best option:
Zack Cozart
Why:
This is far from a knock on Zack. I like him a lot, and do think he'll have a long career. The 8-hole is extremely underrated, especially in the National League, and with the way Reds' pitchers can hit, he's the perfect guy to make something happen at the bottom. He can be a 2nd lead-off type guy, give BP his RBI opportunities, and start rallies with his bat. Honestly, even if he raised his average back to the .280 area, I'd still like him in the 8th spot.
1 - Brandon Phillips (.299 OBP, 14.5% K/PA)
2 - Ryan Hanigan (.325 BA, .385 OBP, 88% CON)
3 - Joey Votto (.461 OBP, 1.041 OPS, 4.9 AB/RBI)
4 - Jay Bruce (55% XBH/H, 6.1% HR/PA, .561 SLUG%)
5 - Drew Stubbs (5 HRs, 11.9% HR/FB)
6 - Chris Heisey (.300 OBP, 15.5 AB/HR in 2011)
7 - Todd Frazier (.814 OPS, 53% XBH/H)
8 - Zack Cozart (.406 SLUG%, .333 BAvL)
*Stats as of 05/22/12*