What would benefit the Reds and
Aroldis Chapman
the most? Chapman as a starter or Chapman as a reliever? It's been a controversial argument for a few years now amongst the GABP corridors. And now thanks to a 6-game winning streak and the incredible dominance being displayed by Chapman, the national media are chiming in with their two cents as well.
Jayson Stark of
ESPN.com
recently posed this very question in his latest edition of
Rumblings & Grumblings
. Here are a few key excerpts taken from that piece:
Starter or reliever?
Is this what a man with an arm like Chapman's should be doing for a living -- facing three hitters a night, pitching 80 innings a year? Or should he be dreaming of being Justin Verlander, Mr. Unhittable Game 1 Starter, when he grows up?
It's a debate that never ends -- not in Cincinnati, not in the entire sport.
Could he make the transition to starting this season?
"It won't be this year, obviously," GM

Walt Jocketty

said. "But he would like to start. His preference has always been to start."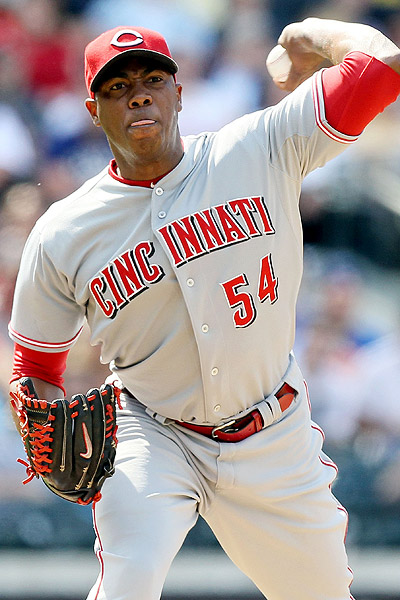 Chapman is still carrying a spotless
0.00 ERA and a 6.14 K/BB
Did fate play a role in his presence in the 'pen?
And if the Reds had only been able to keep half of their bullpen out of the emergency room this spring, Chapman might very well be in this team's rotation right now. He was told after last season he'd get a chance to start. He built himself up all winter to start. And he was "our most dominating starter" in spring training, Jocketty said.
Legitimate questions/concerns...
There are other questions, too, obviously: How many innings could Chapman pitch as a starter after spending nearly his entire stateside career in the bullpen? Can he hold runners? Can he field his position? Can he maintain his velocity for six, or seven, or eight innings a night? And, most of all, how could he make his greatest impact -- as a potential No. 1 starter or as one of the most untouchable closers who ever lived?
Good stuff as always from Stark. Bottom line: the Reds WILL eventually see what Chapman can do as a starter, but it just won't be this year. Necessity has relegated the southpaw to the 'pen where he's thrived, marvelled and flat-out dominated in the later innings. Would he be able to translate his ridiculous numbers pitching every fifth day? Probably not. But I'd like to think that he'd be pretty close.
Yes, the Reds are faced with a dilemma in how exactly to use him, but it sure beats not having him. The fact remains that this is one of those rare "good" problems to have in which Chapman is so versatile and so valuable that any decision you make will likely turn out to be a good one...just maybe not the best.