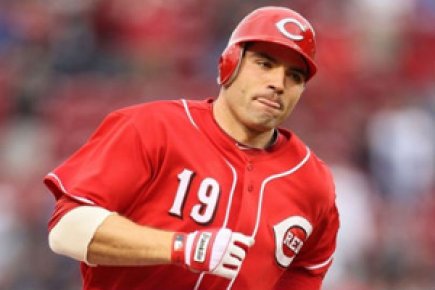 Joey Votto is being well, Joey Votto.
The first-place Reds (25-20) have had a solid month of May so far (14-9)--aided by a recent string of six straight victories, of course. And you don't rip off a 6-game winning streak without some great individual production.
Here are those players who are currently on a hot streak themselves lately, followed by some that are "as cold as ice":
Who's Hot
?
-
Joey Votto
: The 2010 NL MVP is putting up MVP-type numbers in the last four weeks. Votto is hitting .338 (26-77) with five HR, 13 RBI, 13 RS, nine doubles and a .480 OBP during the month. Overall, he leads the majors in walks (41) and doubles (19), and is second in the league in OBP (.459), OPS (1.034) and runs created (40.7). He recently picked up his third 4-hit game of the season on Friday after notching a 3-homer game on May 13th.
-
Ryan Hanigan
: Despite sharing time behind the dish with rookie Devin Mesoraco, Hanigan has taken full advantage when he does play. He's batting .333 (15-45) with four XBH, four RBI and a .400 OBP. He ranks fourth overall among NL catchers in hits (44) this season.
-
Zack Cozart:
The rookie shortstop seems to be breaking out of his slump lately. He's hitting .375 (9-24) with three XBH and four runs scored over his past seven games. He leads all NL rookies in runs (23) and XBH (18), and is third in homers (5) and hits (43).
-
Aroldis Chapman
: The Cuban native has literally been on fire the entire year, but he's been especially tough in May. Chapman has appeared in 11 contests spanning 12 innings pitched while posting a 2-0 record, two saves, three holds, 22 strikeouts and a 0.00 ERA. He's allowed just TWO hits and three walks! It's no stretch to call him the most dominating reliever in the game right now.
-
Mat Latos
: Just as his career splits would indicate, Latos is enjoying a much better month than he did in April. The right-hander is 2-0 with a 2.35 ERA in four starts. He's struckout 30 over the course of 23 innings of work.
- The bullpen: The Reds 'pen is currently the proud owner of the second-best ERA in the NL and that has everything to do with who's in it.
Alfredo Simon
,
J.J. Hoover
,
Jose Arredondo
and Chapman are all boasting ERA's under 2.25 for the month.
Who's Not
?
-
Homer Bailey
: Yes, the right-hander is 2-1 in five starts, but he's allowed 32 hits (six homers) and 15 runs (4.71 ERA) in 28.2 innings this month. His 1.40 WHIP isn't too easy on the eyes either.
-
Devin Mesoraco
: Save from his huge grand-slam homer on Thursday vs the Braves, the rookie hasn't had much to brag about lately. He's hitting .129 (4-31) with a .229 OBP and a .258 SLG in May.
-
Jay Bruce
: As hot as Bruce was in the last part of April, he's been equally as icy in May. He's hitting .205 (16-78) which includes the 1-31 funk he currently finds himself in. The left-hander has gone down on strikes on 23 occasions and is sporting a .264 OBP.
-
Mike Costanzo
: The recently-promoted Costanzo has just one hits in 11 at-bats (.091) although he does have two RBI's to his credit both via sacrifice flies.
- The offense: Cincinnati has produced the third-lowest average (.238) and OBP (.301) among the NL the past four weeks. Their 201 strikeouts are second-worst only to Pittsburgh while their .197 average with RISP is the worst overall.