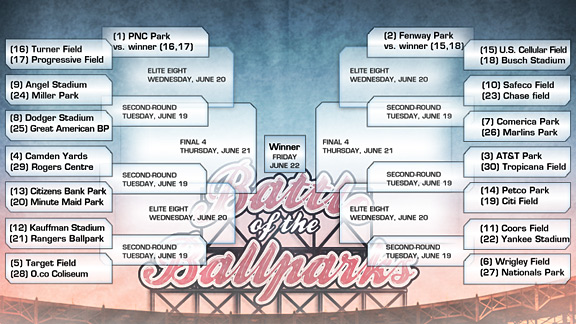 Jim Caple of
ESPN.com
has come up with an interesting way of determining which major league stadium is the best. He's composed a tournament bracket filled with all 30 clubs and is letting the fans decide on who advances to the next round. The voting process takes place all week, with a winner being crowned on Friday.
Unfortunately, the Reds and 25th-seeded Great American Ball Park drew a tough first-round matchup against Los Angeles and 8th-seeded Dodger Stadium. It's going to be tough to pull off the upset against the historic venue located in the country's second-largest market, but it can be done.
You can do your part by following
this link to the ballot
and recording your vote for GABP. But hurry because voting for the first-round ends tonight at 11:59 PM ET. As of 6:00 PM ET, GABP trailed Dodger Stadium by a tally of 58% to 42%...which is certainly not insurmountable.
Just for the record, here is the criteria used for seeding the parks: