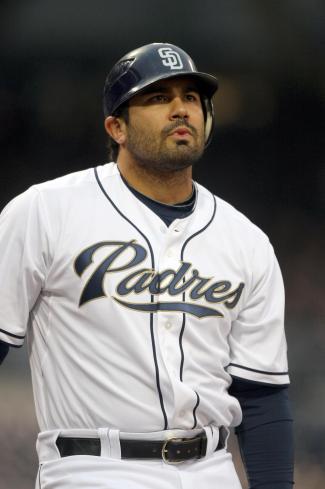 It's that time of year again, rumor season
The trade deadline is still over a month and a half away, but that doesn't necessarily mean teams aren't looking around the league in search for potential help. The injury-riddled, flu-striken Redlegs (35-27) are no exception as they, like other contending squads, continue to attempt to perfect their roster. And the most intriguing name they're reportedly interested in is Padres outfielder Carlos Quentin.
Despite sitting atop the NL Central standings, Cincinnati could desperately use another right-handed stick in the batting order -- specifically one that also plays left field. The Reds haven't gotten the production they hoped for out of the duo of
Ryan Ludwick
and
Chris Heisey
this season and the lingering injury to
Drew Stubbs
isn't helping the cause either.
Entering play on Thursday, Cincy ranked last in the National League in left field production in runs scored (20), was 13th in average (.224), 14th in OBP (.290), 14th in OPS (.661) and had the third-most strikeouts (62). To make matters worse, Heisey left Thursday's game against the Indians with a strained groin, which is very problematic considering the Reds have virtually no outfield replacements waiting in the minors.
Perhaps a call to an old trading buddy will be in the works for GM
Walt Jocketty
and the Reds soon? The two did just recently complete a swap that brought right-hander
Mat Latos
to the Queen City in exchange for 1B Yonder Alonso, RHP Edinson Volquez, C Yasmani Grandal and RHP Brad Boxberger -- all of whom have seen action at the major league level in 2012.
Enter 29-year old Carlos Quentin. His name has been tossed around the rumor mill more times than pizza dough at a Papa John's on a busy Friday night. Cincy is among several clubs alledgedly interested in his services including the Detroit Tigers, Tampa Bay Rays, Los Angeles Dodgers, Atlanta Braves and the Pittsburgh Pirates, among others.
Quentin landed in San Diego after being dealt by the Chicago White Sox on New Year's Eve this offseason. He started the year on the disabled list, but has put up impressive numbers since coming off of it nearly two weeks ago (.421 BA, 5 HR, 10 RBI, 9 RS, 12 G). Those numbers are even more glamoring when you consider how they might translate to a place like Great American Ball Park as oppose to his current home park of PETCO Field.
The 2-time All-Star and 2008 Silver Slugger Award winner is in his seventh big league season and has posted a career slash line of .255/.349/.498 in them. He's clubbed 20 or more homers in each of the past four seasons including a whopping 36 in '08. What he hasn't done however, is stay healthy enough to play in more than 131 games in ANY season and has eclipsed 120 or more only twice (so, yeah there are injury concerns with him).
Further complicating the allure of trading for him is his $7.025MM salary that he boasts for 2012. That number is likely to increase in the coming years too assuming that he continues to stay healthy and produce.
So, I must ask, are his talents worth the risk, the money, and the potential loss of top prospects and/or utility players? It's a decision Jocketty will soon have to make, but I for one believe Quentin would look really good in red...nestled between
Joey Votto

and

Jay Bruce
in the lineup.