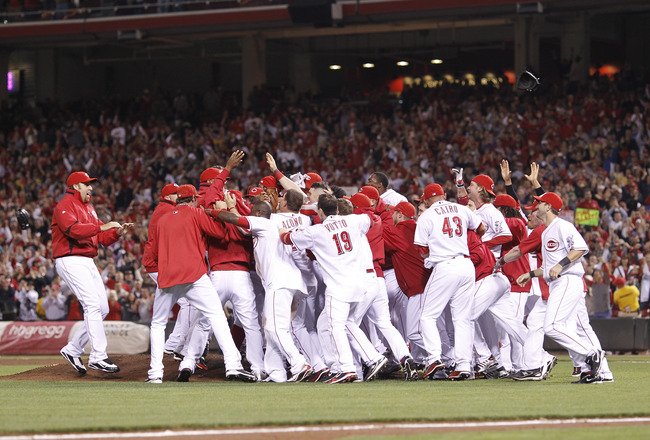 by: Chase Fitzgerald
Guest Blogger
I know exactly what you're thinking. "2015 is so far away, you can't make that assumption." I'm not only going to predict it, I'll guarantee it. The Reds have a lot of young talent now and they have a lot of talent coming in. This year, the Reds do have a very good shot at winning the World Series. They have a lot of streaky hitters and if they get hot during the playoffs and our pitching continues to improve, it is going to be very hard to beat us. But, the Reds also have a lot of holes.
The Reds right now are very low on starting pitching and even though Mike Leake has been showing signs of improvement, his ERA is still 5.47 and he has a record of 1-5. That is not acceptable on a contending team. If he continues to struggle, the Reds have no ready pitching talent that could take his place. The only solution would be Aroldis Chapman but right now he will be staying as the team's closer. The Team also needs a lot of bench help. The Reds do not have a left-handed bat off the bench. Willie Harris didn't work out and neither did Mike Contanzo -- who had a batting average of below .100 when demoted on Wednesday. The Reds bench has basically been the team's biggest weakness. Left field has also been a problem but Chris Heisey has been very productive in the past couple weeks. A major signing that didn't work out is Ryan Ludwick who has not been even close to what the Reds hoped he would be but this article is about 2015.
In 2015, all those holes will be filled and many positions will be upgraded. I know this seems like a stretch but the Reds have the prospects to do so but they are still prospects. Something wrong can happen and they could turn out to be flops. That is why in this article I will go through every possible scenario for what could happen in 2015. All of our top prospects right now have an ETA of 2014. They should be September call ups next year and be full time starters or bench contributors in 2014. That is why this article isn't about 2014. The Reds will most likely be contending then but I won't go as far to predict a World Series. In 2015, all these prospects will be full time starters (hopefully) or the Reds will know their fate after a long look and be bench contributors, trade bait, or in triple-A. Also in 2015, a lot of Reds have contract years or close to contract years. In contract years, players seem to play much better and Brandon Phillips is a prime example of that. Last year, he had the best season of his career winning the Gold Glove and Silver Slugger and was awarded with a big extension. So now, lets breakdown the Reds in 2015.
Let's start with the pitching staff. The Reds rotation right now looks like this: Johnny Cueto, Mat Latos, Bronson Arroyo, Homer Bailey, and Mike Leake. I expect that to change drastically in 2015. Two pitching prospects that could be in the rotation in 2015 are Daniel Corcino and Tony Cingrani. Daniel Corcino is known to many Reds fans as Johnny Cueto Jr. because he has a similar pitching style as Cueto and hangs out with him a lot but it's mostly because of the pitching style. He is in Double-A right now and there is a chance he gets called up to Triple-A by the end of the year. I will be absolutely shocked if he isn't in the starting rotation come 2015. If he lives up to the hype, the Reds could have a very lethal pitching rotation. Now Tony Cingrani is a completely different story. He doesn't have really good "stuff" but he has been dominating in every level you put him in. Right now, he has a 5-1 record, 1.11 ERA, and 70 strikeouts in 56.2 innings pitched in High-A. He put up similar numbers last year in his brief time in low-A. He could turn out to be an amazing find for the Reds or he could fizzle out. I am big fan of his and I think he has what it takes to be a successful MLB starter but there is always that chance. The only two locks for the Reds 2015 rotation are Johnny Cueto and Mat Latos. Johnny Cueto has been dominating and has proved himself to be the ace of the Reds. His contract year just so happens to be 2015. He is going to pitch well because of that and might just be in the discussion for the Cy Young award. Mat Latos has been struggling lately but he has a lot of pressure put on him because of the trade and is adjusting to a new park. He should be fine. He is only 24 and should grow mentally and become a number 1 starter.
Bronson Arroyo will be gone by 2015. Homer Bailey and Mike Leake are still in the mix but like I said before, Leake has not been pitching very well. I do not expect him to be in a reds uniform in 2015 and he will probably be used in a trade package of some sort. Now Homer Bailey on the other hand is very interesting. He has ace potential but has not lived up to it. This year he has been pitching well with a 3.67 ERA. This is also his contract year so the Reds will need to make a decision on him. A wildcard in the rotation is Chapman. He is the team's closer now but that is only because of the lack of any other options. He has been preparing to be a starter and I think by 2015 he will. That is also his contract year and he will definitely be looking to make a good impression. So this is will probably change with trade and free agency but right now I think the rotation will look like this in 2015: Mat Latos, Johnny Cueto, Daniel Corcino, Aroldis Chapman, and Tony Cingrani. One of those rotation spots will probably be changed to someone Reds GM Walt Jocketty picks up via trade or free agency. Either way the Reds are in good shape. With Chapman in the rotation though, the Reds will need to find a closer. I still think Sean Marshal will be a very good closer when 2015 rolls around and that is also his contract year. All together the Pitching staff will be in very good shape.
Now to the lineup; in 2015 Votto should still be a very good hitter and will be in the number 3 spot. The Rest of the order is a big question mark. Billy Hamilton would have a year in the majors under his belt and should be leading off. I would have to guess that he would be playing CF by 2015 since Brandon Phillips and Zack Cozart have SS and 2B covered. Drew Stubbs has not been progressing like the Reds have hoped he would but is still showing improvement batting 2nd. By batting second, he is seeing more strikes since pitchers do not want to face Votto. I think he will turn out to be a decent contributor and eventually moved to left field. He may win the Gold Glove this year so he or Billy Hamilton could be playing CF and one of them would be playing LF. Either way, the first 3 spots in the lineup should be set. There is a chance that Stubbs doesn't get re-signed or he may get traded away but the Reds really don't have anyone waiting to take his place unless Chris Heisey continues to progress. So Heisey or Stubbs should be batting 2nd. Batting 4th, if Dusty Baker is still the manager it should be Brandon Phillips because of his fear of putting two lefties back to back. A wild card to bat 4th is Devin Mesoraco who will be the Red starting catcher. Another possible option is Neftali Soto. He would likely get moved to third base but third base is a wild card right now. Todd Frazier has been very productive at third and could be the starting 3B for a long time. Another option is Didi Gregorius. He wouldn't be playing third but he would move to shortstop and Cozart would move to third. Whatever happens the Reds will be fine at third. If I had to guess right now, the Reds lineup will look like this in 2015: Billy Hamilton CF, Drew Stubbs LF, Joey Votto 1B, Devin Mesoraco C, Jay Bruce RF, Brandon Phillips 2B, Neftali Soto 3B, and Zack Cozart SS.
In 2015, the Reds will be filled with young talent along with veterans in contract years. This is a perfect recipe for a World Series team. So remember, you may think I'm crazy now for making such a bold prediction for something so far away, but when the Reds are lifting that World Series trophy remember who you heard it from first.
Like what you read? Then be sure to follow Chase on Twitter @
cof867
.