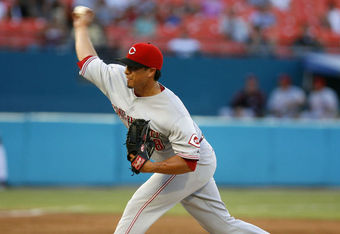 Lohse is a guy the Reds would have liked to keep
In honor of the July 31st trade deadline that's fastly approaching, I've compiled a list of some of the worst deadline deals made by the Reds in recent memory.
Click here to view a post highlighting the best deadline deals in recent memory.
This post only includes trades made in July, so any made outside of that period (i.e.
Mat Latos
,
Sean Marshall
, etc.) were not eligible. Without further ado, here they are:
Phil Dumatrait
*
July 11th, 2002
- Florida gets OF
Juan Encarnacion
, INF
Wilton Guerrero
, and LHP
Ryan Snare
from the Redlegs in a deal for RHP
Ryan Dempster
. A winner of 29 combined games the two seasons before, Dempster wins only 8 in his 1 1/2 seasons in Cincinnati. He is later released and signed by the Cubs where he goes on to resurrect his career in Chicago. Encarnacion becomes a steady, everyday outfielder for three different clubs before calling it quits in '07.
*
July 30th, 2003 -
The Reds send former Rookie of the Year RHP
Scott Williamson
to Boston in exchange for LHP
Phil Dumatrait
and LHP
Tyler Pelland
. Dumatrait goes 0-4 in six starts with the team after finally making it to the majors nearly four years later in '07. Pelland never makes it to the big show while Williamson becomes a reliable reliever for the Red Sox, but never returns to his stellar form while in the 'Nati. A lose-lose for all.
Gary Majewski
*
July 13th, 2006 -
In a whopping 8-player trade, Cincinnati receives RHP
Gary Majewski
, LHP
Bill Bray
, SS
Royce Clayton
, RHP
Daryl Thompson
and INF
Brendan Harris
from Washington for OF
Austin Kearns
, INF
Felipe Lopez
and RHP
Ryan Wagner
. Majewski posts a 7.38 ERA in an injury-riddled three seasons with the team, Clayton contributes very little in his half a season with the squad, and Thompson spends several years in Triple-A and is no longer a part of the organization. Only Bray proves to be valuable commodity among the five players acquired in the trade by the Redlegs. Lopez and Kearns go on to become valuable contributors with their respective teams.
*July 30th, 2007
- The Phillies obtain RHP
Kyle Lohse
by sending LHP
Matt Maloney
to Cincy. Since then, Lohse has compiled a combined 52-34 record with PHI and STL including a 15-win season in '08. He's developed into one of the better starters in the National League and the anchor atop the Cardinals rotation. Maloney, on the other hand, bounced back-and-forth from the minors and is currently a member of the Minnesota Twins organization. He boasts a 8.18 ERA in nine appearances for them this season.