by: Chase Fitzgerald
Staff Writer
This season ended just awful and I'm going to do you all a favor and not remind you. It really stung to have a great season end like this, but it's never too early to look at next year. I personally think this team was over-performing but I think this team can win it all next season if they do the steps below. Audience, I give you an off-season check list. The following is a list of moves the Reds have to make in order to win a World Series. So enjoy!
1. Fix
Joey Votto
Joey Votto was not right when he returned from knee surgery. He still was the most productive player in the line-up getting on base more than half the time, but we all know he wasn't 100% especially in the post-season. All the talk this entire season was to get the number 1 and 2 guys on in front of him. Well, we did just that in the post-season yet he didn't get a single RBI. He just seemed frustrated at himself all the time. The Reds number one priority needs to be getting Votto back to his MVP form like he was earlier in the year because there is no way the Reds can win it all without him.
2. Don't forget this season
The season ended terrible, we all know that but the worst possible thing the players can do is to forget about it. The feeling in the gut that you have now, the players have twice that. I want them to remember this feeling. This feeling is worse than getting swept. This feeling is worse than getting no-hit in the playoffs. This feeling is knowing that you had the opportunity in your hands not once, not twice, but three times and you completely blew it. I want the players to never forget this feeling because I know no one in their right mind would want to experience this feeling again. Learn from this. This won't be the last time this Reds team goes to the post-season and I know next time, they will be planning on winning more than two games.
3. Find a number 5 starter
The Reds' rotation was just unbelievable this year. Never missing a start during the regular season and just pitching fantastic, with the exception of one person:
Mike Leake
. He is one of my favorite players, but he does not deserve a spot in this rotation next year. He had a losing record and his ERA was 4.58 which is just not acceptable on this rotation. Leake was obviously our weak link and he should not be on the major league roster next season but that means we need someone to fill Leake's rotation spot. I honestly don't care how they do it but there are some in house options before they consider free agency or trade. Daniel Corcino will be in Triple-A this year and he is a possibility, but I'm definitely not in favor of rushing pitchers. Leake himself has proven that doesn't work. There is also
Tony Cingrani
, who was called up in September and really impressed. This was only his first year in the minors but he is 23 and he seemed like he was ready but it looks like the Reds see him more as a reliever than starter. Whatever the Reds decide to do, they just can't have Leake in the rotation until he shows significant improvement in Louisville, which is where he should start the season.
4. Bring back Price
As some of you Reds fans know, the Reds pitching coach, Bryan Price, and all of the other coaches' contracts are up. There are going to be a lot of difficult decisions to be made including if they should bring Dusty back but I honestly don't know what to do. Dusty is great with the players yet makes a lot of questionable in-game decisions, so I'm kind of split on my vote and very happy I'm not in GM Walt Jocketty's position. The one thing they need to do though is bring back Price. Price may be the best pitching coach in the MLB and has just done a tremendous job developing Chapman, Cueto, Bailey, and Latos in his short time here. None of them missed a start in the regular season and the last time that happened in the MLB was by another Price-lead team. That is definitely not a coincidence. If the Reds want to see the same success next season, they must extend Price and keep him here for a long time.
5. Bring back
Ryan Ludwick
The Reds passed on a lot of free agents this off-season and were really criticized but all those critics suddenly vanished when Ludwick started performing. Ludwick has been so good that he will receive some MVP votes and has his value to this team can't be described. If he was not on the team this year, the Reds may have not won the division. His leadership and personality really got this team through hard times and with the team's leader Rolen leaving, the Reds really need a leader next season and I believe Ludwick can be that guy.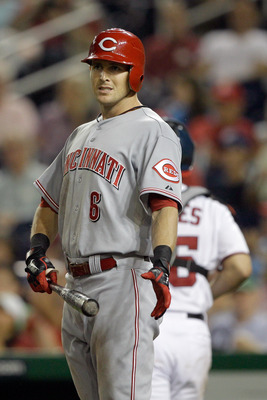 6. Do something with Stubbs
I love
Drew Stubbs
but I'm sorry to say that the Drew Stubbs experiment is over. We have given him enough time and he has only regressed. He has gotten worse the past couple years and with him being 28, it's not looking like he's going to put it all together. That's why it's time for the Reds to move him. He does have some trade value just based off talent but it's not too much. We could trade a prospect or two with Stubbs for a leadoff man, but that probably won't happen. We have Billy Hamilton ready in two seasons and I think that's when Stubbs will get the boot. I hope the Reds realize that Stubbs isn't an everyday player and at very least they should platoon him at center with Heisey.
7. Give more starts to Mesoraco
The Reds handled Mesoraco awful this year and that just can't be the case next year. I understand keeping him off the post-season roster because of Navarro, but he just plain out needs more starts to develop. He is our future at catcher and he has all the potential in the world but, he's not going to reach that playing two times a week. I would let Mesoraco catch three pitchers this year and give him more starts back-to-back. He got his rookie season out of the way and I think with more starts, he will start becoming what we all know he can be.
8. Bring back Madson
This might be the least likely to happen but I think it needs too. This bullpen was one of the best in baseball this year and imagine how good it would be if we had
Ryan Madson
. Madson is one of the best closers in the league and if he would have stayed healthy, our season might be still going on. Chapman would have been a starter and Bailey would have eventually replaced Leake. Bailey, Latos, Cueto, Arroyo, and Chapman is one scary rotation. If the Reds bring back Madson, it can allow Chapman to go to the rotation and keep the bull-pen one of the best in baseball.
9. Give
Didi Gregorius
a chance
Zack Cozart
was not that good last season. His defense was above average but his bat was one of the worst in the league. He had a lot of XBH but his average (.246) was unacceptable. He is a rookie so he will improve but I think the Reds have a better option. His name is Didi Gregorious. Earlier in the season, I saw him as trade bait for the Reds but now I see him as a better alternative to Cozart. Didi's glove is something special and he could very well win a lot of Gold Gloves in his major league career. Didi, Phillips, and Votto will make by far, the best defensive infield in the league. His bat doesn't have as much pop as Cozart, but it is still underrated and I think he could hit over .270 in the majors. That bat at the top of our line-up sounds really good. I think going into the season, Cozart and him should platoon at short and let the better man win. My money is on Didi.
10. Give Latos and Bailey extensions
Latos and Bailey are arb. eligible this year and they both deserve extensions. Latos is a 24-year-old ace and he can only get better while Bailey finally put it all together this year and pitched like an ace. I hope the Reds lock them up for a very long time because they both are well worth it. Having them at the top of our rotation along with Cueto is scary for other teams considering how young they are. They are only just getting started and I really hope the Reds have money left over to lock them up.