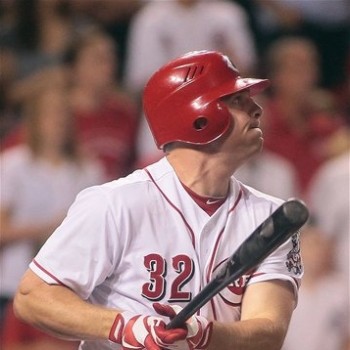 It's hard to believe that
Jay Bruce
is only 25 years of age. The former first round draft pick just completed his fifth full season in the majors, and appears to be entering the prime of his career. The 2012 campaign had its share of ups and downs along the way for him, but overall the left-handed slugger posted a pretty solid individual season.
Here's a closer look at Bruce's notable feats from '12:
+ Was named an All-Star for the second year in a row
+ Tallied career highs in homers (34), RBI (99), stolen bases (9), slugging (.514), doubles (35), and runs (89).
+ Led the club in HR, RBI and total bases
+ Led the club in outfield assists (8) and putouts (297) among outfielders
+ Earned a base salary of $5M
+ Earned National League Player of the Month honors for May after hitting 12 HR & 33 RBI
+ Finished third in the league in homers and fourth in XBH (74)
+ Played in a team-high 155 games
+ Was named NL Player of the Week twice (April 23-29 & September 3-9)
+ Delivered a 3-run, walkoff homer against the Mets on August 14th
Fun fact:
Bruce is under contract through the end of 2016 and has a team option for 2017.
Here's a look back at the players who's seasons we have already covered
:
Joey Votto