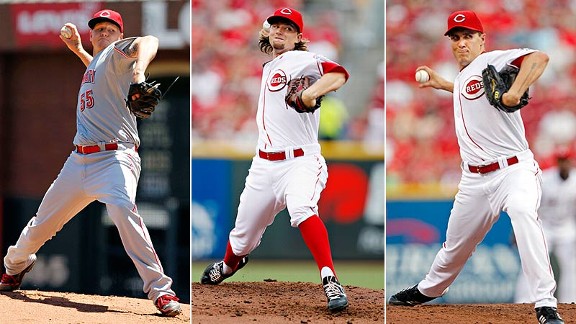 Great pitching hasn't exactly been a staple for the Reds in years past. The franchise has been traditionally known for its offensive prowess rather than its ability to get batters out. But that perception may be shifting thanks to the latest developments in Cincinnati. The Redlegs have been relying on pitching and defense and ESPN's Buster Olney has taken notice.
In his latest ESPN Insider piece entitled "
Top 10 Rotations in MLB
", he dubs the Cincy's rotation as the 5th-best overall. Here is a snippet of what he had to say about
Bryan Price
's starting five:
5.
Cincinnati Reds
The Reds finished fifth in the majors in rotation ERA last season, and their group of five was remarkably durable --
Johnny Cueto,
Bronson Arroyo,
Mat Latos,
Homer Bailey and
Mike Leake started 161 of the team's 162 games. As if that wasn't enough, the Reds intend to shift the overpowering
Aroldis Chapman into their rotation in 2013, to give them a needed left-handed presence. Cueto was a Cy Young candidate for most of the season, and Latos made an excellent transition from pitching his home games in massive Petco Park to the confined quarters in Cincinnati. Arroyo, who turns 36 in February, has had seven straight seasons of 199 or more innings. The Cincinnati bullpen should be pretty good, too.
Linchpin guy: Bailey. He has a reputation for being stubborn and hard-headed, but he seemed to figure out some stuff during the 2012 season, with his ERA dropping from 4.14 in the first half to 3.21 after the All-Star break. Bailey was a first-round pick in 2004 and because of that, it feels like he's been around forever -- but remember, he's 26. If he has, in fact, turned the corner, and Chapman repeats his delivery enough to stay in the rotation, the Reds might have the best rotation by the end of the year.
I believe Olney is correct by saying that the Reds could indeed have the best rotation in baseball by the end of the year. But that will only be the case if everyone stays healthy, everyone performs up to their capability, and the stars just generally line up just right.
Cueto and Latos will need to continue their ace-caliber production, Arroyo will need to avoid another season like 2011, Leake will need to be ready to contribute when he is called upon (because you know there will be a time in which he will), and Bailey will have to keep progressing toward stardom. However, the main variable as to whether or not the Reds can boast the most dominant rotation lies on the success or failure of Chapman. The southpaw has the potential to be better than both Cueto and Latos, and should that come to fruition, Cincinnati is going to be a force to be reckoned with come October with three legitimate aces leading the way.
Of course, life has a funny way of throwing us curveballs (pardon the pun). Unforeseen events or happenings such as injury, suspension, and/or poor performance could derail their chances of becoming the best starting group in MLB. But for now, let us enjoy the possibilities of what could be in 2013. Oh, the possibilities.