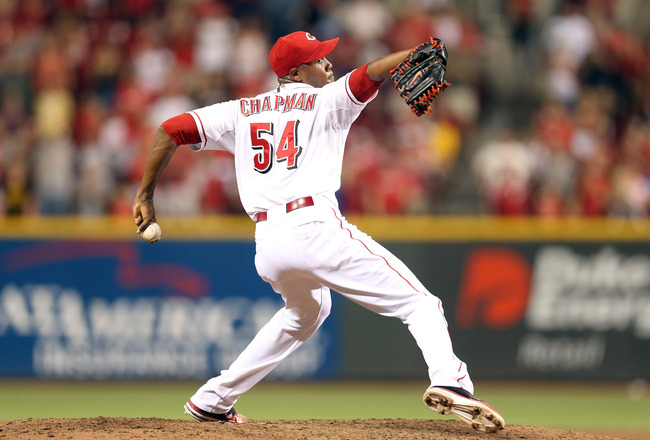 By Scott Eddy
Staff Writer
New Year's celebrations are just around the corner and with the turning of the calendar to 2013 comes the anticipation of a new baseball season. There's little doubt that the 2013 season will be one of the most highly anticipated years in Reds history following a dramatic 2012 campaign and a roster loaded with talent.
Perhaps the most anticipated storyline of 2013 for Reds fans is the transition of
Aroldis Chapman
to the role of starter. While the decision to turn Chapman into a starter has been met with great expectations by many fans, it has also been met with trepidation by nearly as many who are concerned that Chapman may never be as effective as a starter as he has been in the closing role.
There are reasons to doubt the move – greatest among them the fact of how dominant Chapman was at the end of the bullpen. Throughout his brief time in the majors, Chapman has been a primarily one-pitch pitcher, throwing his fastball a whopping 88 percent of the time last year. And while his blistering velocity has been often unhittable in the bullpen, one pitch won't result in much success through seven innings every five days against major league hitters. After all, there's a reason
Mariano Rivera
never left the closer's role.
For the naysayers, a quick check of Chapman's spring success a year ago in a bid for a rotation spot calms a few fears – he was absolutely brilliant, striking out 18 while walking two in four starts and posted a 2.12 ERA.
Let's assume Chapman is able to make the jump to the starting rotation with relative ease. It's a bit of a leap of faith but as last year's numbers suggest, Chapman seems able to switch back to the rotation. We shouldn't forget pitching coach
Bryan Price
's belief in the transition either, no small vote of confidence.
Even if Chapman dazzles in the spring as a starter, though, the Reds will be faced with some difficult questions on how to handle their phenom. I'm not especially concerned with stretching him out – his years of experience as a starter should be enough for Chapman to make a fairly seamless transition in terms of endurance. His recent past shows that he has the ability to add a knee-buckling slider to his repertoire, although he will certainly need to work on a repeatable change.

The case study of Medlen may be one
to consider for the Reds and Chapman
Just how long Chapman can safely endure, though, is my biggest question. During the past two seasons combined, he has tossed just 121.2 innings. To expect Chapman to be able to throw 200 innings next season after two years in the bullpen is both a bit unrealistic and irresponsible.
So, just how should the Reds handle Chapman? A look at the Braves' handling of young stud
Kris Medlen
might be a prudent plan of approach. Medlen posted silly stats last year – he went 10-1 with a 1.57 ERA in 50 appearances.
Key to Medlen's stat line, though, is the fact that he made just 12 starts and threw 138 innings. Medlen went under the knife for
Tommy John
surgery in August 2010 and re-appeared with the Braves at the very end of 2011. When the 2012 season rolled around, the Braves were very cautious with their top prospect, putting him back in the bullpen to regain his strength while being kept on an innings count. Medlen re-joined the rotation with a start on July 31 and promptly became the best starter in baseball during the stretch run for Atlanta.
Cincinnati's best approach with Chapman may be to put him back in the bullpen at the start of the year, but simply in a different role. Using Chapman in more of a long relief type of role for the season's first few months will allow him to be stretched out gradually, cap his innings and the Reds will still be able to utilize his talents with the major league team. Once the summer rolls around, he will then be ready to take his spot in the rotation while still having his innings count low enough to pitch through September and into the playoffs if the Reds remain in the hunt.
The limit for Chapman this season may be in the neighborhood of 150 to 160 innings. No Reds fan wants to see a Stephen Stasburg-like situation where the team finds itself in a position to either shut down a potential ace in the middle of a pennant race or blow out his arm in the process.
Braves manager
Fredi Gonzalez
perhaps put things best last year when saying of Medlen, "It was basically the number Strasburg is facing right now, 160 to 170 …. Where do we want that 160 to 170 to end? Do we want it to end in October or do we want it to end in August?"
Reds fans who have clamored to see Chapman in the rotation have been extremely patient these past few seasons. A little more patience might serve them, and the organization, well this year.