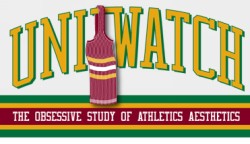 Major League Baseball is launching new batting practice hat designs for all of its 30 teams ahead of this upcoming season. Paul Lukas of Uni Watch recently offered
a sneak peak
and graded each one, including the Reds' new look. Here is a look at them, as well as a quick analysis by Lukas:
(ROAD)
The Mets aren't the only team putting a baseball-headed mascot character on their BP cap. Everyone likes Mr. Redlegs (depicted on the cap with one upturned collar point, as per his longstanding style), but it's a shame they felt the need to add a black road version. Grades: A- (home) and C+ (road)
I have to agree with Lukas here. I also favor the home caps over the road ones. However, it isn't like we are going to have the chance to see the Reds wear these much. These will primarily be worn during batting practice and aren't likely to make an appearance during an actual game. Nonetheless, it offers fans another hat option to don, but more importantly it offers MLB another item they can sell.
On a side note, check out these lids the Atlanta Braves are set to wear in 2013. They feature a screaming Indian instead of the classic "A" logo. Lukas isn't impressed and neither am I. The Braves were the only team he gave a grade of "F" to.