Many events transpired in 2012 that made this year a good one for Reds fans. Not only did we all survive doomsday as the Mayans had predicted, but we also got to witness a plethora of memorable Reds moments too. We saw
Aroldis Chapman
emerge into arguably the most dominant closer in the game, a 97-win season, a home run hit with no hands by
Todd Frazier
, a bounceback season from
Ryan Ludwick
, and a countless number of priceless tweets from Dallas Latos, among other things. But not even those were able to top these following ones I'm about to unveil.
So without further adieu, I present to you the 10 best Reds moments of 2012...
10) Reds walk off on Bruce's blast (Aug. 14)
+ The game remains scoreless until
Jay Bruce
steps up to the plate with two men on in the bottom of the ninth. He then proceeds to wallop an opposite field homer to send the home team to a walk-off victory over the visiting Mets, 3-0. The long fly is Bruce's 23rd of the campaign and fourth career game-ending homer.
Mat Latos
tosses seven shutout innings of 5-hit ball to help lower his ERA to 3.63.
Ryan Hanigan
, Ryan Ludwick,
Zack Cozart
and Bruce all record multi-hit games.
Cincinnati leaves 14 men on base through the seven innings without scoring a run. They become the first team to be held scoreless through seven innings despite leaving 14 men stranded since September 14, 1969 (Washington Senators).
The victory also gives
Dusty Baker
's bunch a season-high six-game lead over second-place Pittsburgh, who lost 11-0 to the Los Angeles Dodgers on this night.
9) The slugfest at GABP (May 27)
+ It may not have been the best game of the season, but it sure was the craziest. The two clubs set a new Great American Ball Park record by smacking a combined nine home runs (COL-5, CIN-4) during the slugfest. One might even have thought the contest was played in the thin-air of Coors Field the way the ball was sailing out of the yard on this day.
Reds starter Mat Latos earned the win despite allowing five solo homers. He would call the fact that he surrendered a handful of bombs a 'bummer' during a post-game interview.
Todd Frazier literally hit one of the game's longballs with no hands. He lost the grip on his lumber in the fourth just before making contact on a swing and the ball flew over the wall anyway.
"I felt the bat slipping out of my hands," Frazier said. "I looked at the (slow motion) and it looks like my bottom hand is off. At first, I thought it was a short popup, but then I took a couple of steps and said, 'Oh.' It's a pretty interesting way to hit a home run. It was a pretty cool."
All in all, there were a total of 13 hits in the game, only four with which were not of the four-base variety. Yeah, I would say the fans got their money's worth.
8) NLDS Game Two: CIN 9, SF 0 (Oct. 7)
+ Cincinnati's odds at winning a sixth world championship never looked so good after this one. The Reds thumped the Giants in San Francisco, 9-0, to close within one victory away from advancing to the NLCS. Little did anyone know at the time that the Reds were in for a historic meltdown just days later. But that's not what this post is about.
No, this post is about the glorious performance of the Reds on the fateful evening at AT&T Park. The offense fired on all cylinders while the pitching trio of
Bronson Arroyo
,
J.J. Hoover
and
Jose Arredondo
combined to twirl a 2-hit shutout. Every starting position player for Dusty Baker's club tallied at least one hit with four different Reds even recording multi-hit games.
The NL Central Champs boarded their flight home to the Queen City with a comfortable 2-0 NLDS lead with three tries at home to win just one. They even had history on their side as no previous National League team had ever lost an LDS after going up 2-0. But there's a first time to everything, right?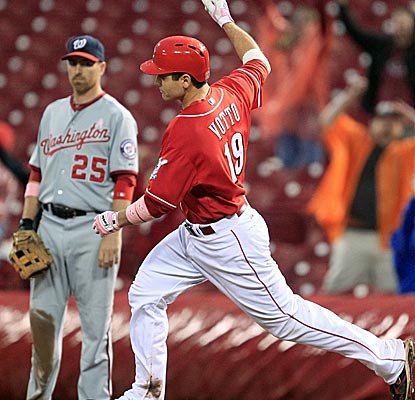 7) Votto explodes on Mother's Day (May 13)
+ In perhaps the most thrilling victory all season long,
Joey Votto
's walk-off grand slam in the bottom of the ninth seals a 9-6 win over Washington on Mother's Day. Votto homers three times in all, and adds a double for good measure, en route to a career day with which he tallies six RBI and four runs as well.
The start of the game is delayed for three hours and 36 minutes, but the finish is well worth the wait. Cincy outscores the Nationals 6-1 in the final two innings to escape being swept at home, and helps lift their record over the .500 mark (17-16). Rain runs many fans off to shelter, which leaves a sparse crowd to witness the improbable comeback at GABP.
Ryan Hanigan pounds out a pair of hits and
Sean Marshall
earns his first win as a Red after tossing a scoreless inning of relief in the ninth.
6) Opening Day goes perfectly (April 5)
+ Everything goes according to plan on Opening Day as Cincinnati rings in another season of baseball.
Johnny Cueto
stymies the Fish over seven strong innings to kick-start his 19-win campaign.
Jay Bruce leads the offensive charge with a homer and a pair of RBI as the Reds outhit the visitors by a tally of 10-3.
Scott Rolen
, Ryan Ludwick, Zack Cozart, and
Chris Heisey
all notch a double each.
Aroldis Chapman makes his season debut and proceeds to strike out two in a scoreless inning of relief. Offseason acquisition Sean Marshall tosses a perfect ninth to nail down the victory in front of 42,956 beaming fans at GABP. It marks the second-largest crowd ever at GABP, trailing only the NLDS Game Three loss to Philadelphia in 2010.
The glorious win comes just a day after Joey Votto signs a contract extension which keeps him in a Reds uniform through the end of 2023. It ends any and all speculation about his future, and allows majority of the fan base to breathe a sigh of relief.
Oh, and baseball hit king
Pete Rose
is in the stands to witness it all unfold. What a great day it was in the Queen City.
5) NLDS Game One: CIN 5, SF 2 (Oct. 6)
+ The Reds lose Johnny Cueto due to a strained oblique after he tosses only eight pitches, but they still go on to win their first playoff game since 1995. The combination of
Sam LeCure
, Mat Latos, Sean Marshall,
Jonathan Broxton
and Aroldis Chapman band together to throw 8.2 innings of 2-run ball. Latos accounts for four of those innings after the right-hander is summoned into a relief role unexpectedly on just three days rest.
Brandon Phillips
and Jay Bruce lead the way on offense combining for five hits and four RBI including a homer each. Bruce also smacks a double as well.
San Francisco starter
Matt Cain
allows his first career postseason earned runs after going untouched during the Giants' improbable World Series run in 2010.
4) Reds clinch the division (Sept. 22)
+ The Reds blank the visiting Dodgers (6-0) to clinch their second NL Central Division title in three seasons on a beautiful Saturday afternoon in Cincinnati. A sold out crowd of 41,117 is on hand at GABP to witness the momentous victory.
Everything goes right for the Redlegs on this day as they become the first team in MLB to clinch their division in 2012. Mat Latos earns the win to lift his record to 13-4 after tossing eight innings of six-hit, no-run ball. The right-hander displays extreme efficiency as he hurls 78 of his 105 pitches for strikes, and doesn't allow a walk to a single batter.
Aroldis Chapman nails down the game in the ninth after recording a scoreless inning of relief.
Cincy uses a balanced offensive attack to overwhelm the fleeting squad from Los Angeles. Jay Bruce and Brandon Phillips each smack solo homers while Todd Frazier and Zack Cozart tally a couple of hits to their name.
The Reds use a 3-run eighth to add plenty of breathing room and insurance en route to an inevitable post-game celebration in the clubhouse.
A long, grueling season finally pays off as the guys punch their ticket to the promised land. And the thoughts of winning a World Series is as real as ever.
3) Reds lockdown stars for years to come (April)
+ April 2, 2012 may go down as one of the most memorable days in franchise history. This is the day the Reds decide to buck the "small market team" tag by agreeing to extend Votto's contract to the tune of 10 years and $225 million. It marks the fourth-largest deal in MLB history and is currently the longest active deal in baseball. Nonetheless, it proves that the Reds and their ownership are committed to winning.
On April 10, the Reds once again shock the baseball world by extending the contract of All-Star second basemen Brandon Phillips as well. Phillips' deal keeps him in the Queen City through 2017 after agreeing to a deal worth about $72.5 million.
The contract extensions end the "window of opportunity" that many are referencing in regards to the Reds' chances of winning a title. It also put a clamp on any and all speculation on Votto's future with the team. Some had previously wondered if the Reds would try and trade their All-Star first basemen before his old contract would expire in '13.
Needless to say, the news of the signings were widely received as positive among Reds fans. However, some industry experts and executives remain skeptical as to how the club will be able to afford the deals in the long-run. That could be a valid concern, but for now the Reds are in a great position to contend for a title for many years to come.
2) Homer Bailey's no-no (Sept. 28)
+ Homer Bailey throws the 15th no-hitter in franchise history and the first since
Tom Browning
's perfect game against the Dodgers on September 16, 1988. It marks the first time the Pirates have been held hitless since 1971. Only the Cubs had previously gone longer without being no-hit.
The former first-round pick dazzles the 34,796 fans in attendance at PNC Park to help give the Reds an old-fashioned 1-0 victory. The 26-year old also improves to 5-0 with a tidy 1.40 ERA in six career starts at Pittsburgh's home stadium.
"It's very special because Homer and I have been there every step of the way," Ryan Hanigan said. "It's great for Homer, it's great for the organization and it's just great for the team because it's another special moment in what has been a very special season."
Todd Frazier knocks in the game's only run with a sacrifice fly in the top of the first that scores Brandon Phillips. That would be all the offense needed in this one as Bailey and the Reds send the Buccos to their 81st defeat of the season, which ensures their 20th consecutive non-winning season, the longest streak of futility in North American professional sports history.
1) Larkin gets the call to the Hall (July 22)
Cincinnati native
Barry Larkin
is inducted into the National Baseball Hall of Fame and Museum on the strength of an outstanding career as a shortstop.
"My inclusion in the Hall of Fame is the ultimate validation. I want to thank you all for helping me along the way," Larkin said.
Larkin, who played his entire 19-year career with the Reds, retired after the 2004 season with a .295 career average, 2,340 hits, 1,329 runs scored and 379 stolen bases.
Drafted fourth overall by the franchise in 1985, Larkin quickly became the heart and soul of the organization. He was a 12-time All-Star, 3-time Gold Glove Award winner, 9-time Silver Slugger Award winner, the 1995 NL MVP, and a member of the 1990 World Series champion squad.
On Aug. 25, 2012, the Reds honored Larkin by retiring his No. 11 during pre-game ceremonies.
He became the first Reds player to be inducted into baseball's greatest shrine since
Tony Perez
in 2000.