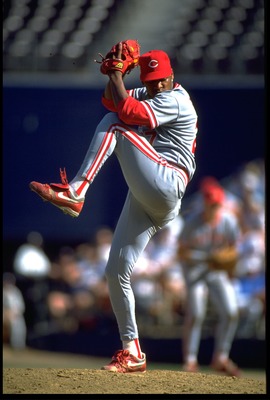 December 8, 1987
- The Reds sent veteran slugger
Dave Parker
to the Oakland Athletics in exchange for pitchers
Jose Rijo
and
Tim Birtsas
. Although Parker's bat and leadership skills were sorely missed by the Reds, the move turned out to be beneficial for both squads moving forward.
Rijo immediately made an impact on the pitching staff as evidenced by his 13-8 record and 2.39 ERA in 49 games during 1988. By 1990, he had emerged as the undisputed ace of the staff. His arm helped guide Cincy to a sweep over the team that traded him in the 1990 World Series. He was named the World Series MVP after posting a 2-0 record and 0.59 ERA in two starts.
Rijo's dominance in the league would continue through 1995 at which time he suffered a serious elbow injury that would force him out of Major League Baseball until 2001. His attempt at a comeback was brief. The Dominican right-hander retired in 2002 after compiling a 97-61 record, 2.83 ERA, and 1.187 WHIP in his Reds career.
The left-handed Birtsas never amounted to much in Cincy. He was primarily an extra add-on in the deal. However, his 1985 campaign with Oakland in which he posted a 10-6 mark at just 24-years old showed signs of promise. Unfortunately, Birtsas was out of professional baseball by 1991 after appearing in 107 games and tallying a 4.08 ERA in 3 seasons with the Redlegs.
Parker had been acquired by Cincinnati via free agency in the winter leading up to the 1984 season. In four years in the Queen City (631g), the 7-time All-Star sported a slash line of .281/.334/.469 with 107 homers, 432 RBI, and 327 runs scored. He won back-to-back Silver Slugger Awards in 1985-86 and finished in the top five in MVP voting on both occasions during those years. His '85 campaign may have been the most productive of his 19-year MLB career. Parker led the league in RBI (125), doubles (42) and total bases (350) while maintaining a .916 OPS and slugging a career-best 34 longballs. After a decline in production in '87, the Reds thought it best to part ways with the 36-year old slugger and thus, dealt him westward to California.
Parker would go on to play four more seasons with four different clubs (OAK, MIL, CAL, TOR), but did manage to win a World Series ring as a member of the A's in 1989.
In hindsight, it appears as though the trade worked out well for both teams. Both Rijo and Parker were key cogs in helping the Reds and A's, respectively, win it all at one point in time.