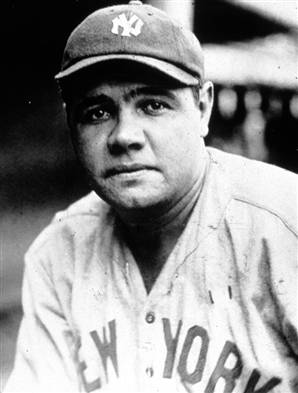 December 29, 1933
- Reds acting president Larry MacPhail tries to purchase the contract of Babe Ruth from the New York Yankees. MacPahil wanted to bring Ruth to Cincinnati as a player-manager, but Yankee owner Jacob Ruppert wouldn't release the Bambino from his contractual obligations.
Ruth played one more season with the Yankees and hit .288 with 22 homers in 125 games played. He was eventually sold to the Boston Braves on February, 26, 1935.
The Reds took another run at Ruth prior to the 1936 campaign, but he opted to stay retired instead.
Ruth is widely considered the greatest baseball player to ever lace 'em up. In 22 years in the league, 15 of which came with New York, Ruth tallied a ridiculous lifetime slash line of .342/.474/.690 with 714 homers, 2,213 RBI, 506 doubles, and a whopping 136 triples.
He was also an outstanding pitcher when he took the mound as well. Most of his pitching appearances came in his early years as a member of Boston, though. He posted a career 94-46 record with a 2.28 ERA, which includes back-to-back seasons in 1916-17 with which he won 23 games and 24 games, respectively.
His career Wins Above Replacement total of 178.3 ranks as the highest of any player in MLB history. Cy Young is next on the list and trails Ruth by nearly 18 (160.8).
Perhaps one of Ruth's only knocks as a player was that he was caught stealing (117) almost as many times as he was successful (123).
Ruth was voted into the National Baseball Hall of Fame by the BBWAA in 1936 after receiving 95.1% (215/226) of the vote. Why the other 11 voters didn't believe that Ruth was deserving of a HOF nod is beyond my imagination.