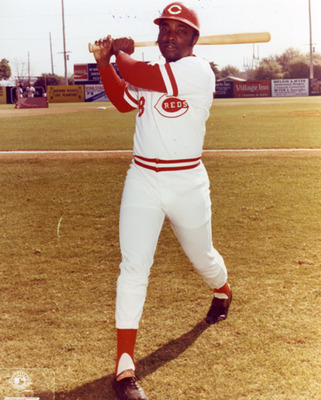 The Redlegs were really, really good in the 1970s. Heck, they won 90 or more games in every year during the decade except two (1971, 1977). They won 95 or more games in six of those years, including 100 or more thrice. Oh, and they also won back-to-back World Series titles during the middle of that stretch.
Their dominance led to the "Big Red Machine" moniker, and rightfully so. They were dominant in every sense of the word. Part of the reason for their success was due to their sensational infield unit. In fact, ESPN's Buster Olney tabbed their 1976 infield crew as the best of all-time.
Here is a snippet from
that post
on the '76 group:
1. 1976 Cincinnati Reds
1B Tony Perez, 2B Joe Morgan, SS Davey Concepcion, 3B Pete Rose
Start with this: Joe Morgan posted an OPS+ of 186 that year, which is the highest for any middle infielder after 1935.
Morgan was a Gold Glove winner at his position that year and won his second consecutive MVP award after posting a career-high OPS of 1.020, with 62 extra-base hits, 114 walks, 111 RBIs and 60 stolen bases in 69 attempts. That was the fifth of six consecutive seasons in which Morgan scored more than 100 runs.
Oh, by the way, the first baseman, Perez, had 57 extra-base hits and eventually would be voted into the Hall of Fame. Concepcion, the shortstop, also won the Gold Glove and hit .281, developing into a borderline Hall of Famer; I don't think it would surprise anyone if some veterans' committee sometime voted him into the Hall of Fame.
And, oh by the way, the third baseman hit .323, with a .404 on-base percentage, scored 130 runs -- and later became the all-time leader in hits. Pretty good.
If you argued that the Reds' infield performed even better in 1975, that would be more than reasonable.
That's not even mentioning the man they had behind the plate in the likes of
Johnny Bench
. He was pretty darn good himself, you know.
Olney mentioned the 1991 Reds infield crew of
Hal Morris
,
Bill Doran
,
Barry Larkin
, and
Chris Sabo
as groups he considered for inclusion on the list.
Dusty Baker
currently enjoys a pretty solid cast of characters patrolling the GABP dirt, as well.
Joey Votto
,
Brandon Phillips
,
Zack Cozart
, and
Todd Frazier
present a formidable four in their own right.