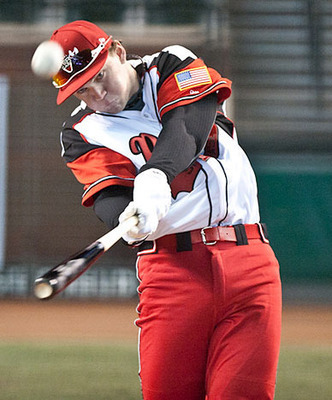 by: Jon Davis
Staff Writer
@I_Bleed_RedsRed
#7
Tanner Rahier
SS
@trahierss on Twitter
For the third straight prospect, we get a player taken in the 2012 draft, and a player who will be 19-years old at the start of the season. At number seven, we have second round pick Tanner Rahier, a 6-foot-2, 205-pound shortstop drafted out of Palm Desert High School in California. Unlike No. 6 prospect
Jesse Winker
, Rahier did not have very much success in his first year. In 219 plate appearances, playing in rookie ball for the Arizona League Reds, he hit just .192. Now, that is a little misleading because he did have a good contact rate of 78 percent, a walk rate of 11 percent, and hit into a lot of bad luck as his BABIP (batting average on balls in play) was an astonishingly low .224.
Rahier's tools are mostly average, but they tend to play higher due to his aggressive and all-out style of play. He is an aggressive hitter who can turn on fastballs giving him a chance at having plus power in the future. He also showed solid plate discipline in his opening act in professional baseball. He did struggle defensively last year, but his best tool is his arm, though he also has good hands and fairly good range. While he does have a chance to stay at short, given his size and tools most believe he will transition to third base at some point in time. Given this, Rahier has drawn comparisons to
Evan Longoria
, Rahier's ceiling appears to be .280-.290 hitter with 20 homer potential while having the tools to be a good defender at third.
As a Reds fan, I liked very much hearing what one scout had to say of Rahier, "He plays like a bat out of hell — he's like
Pete Rose
."
Rahier will probably begin the year in Billings. We won't be hearing his name anytime soon; likely 2015 at the earliest. He still has a lot of developing to do, but has a good chance of reaching his potential due to a strong desire. We know this, if he doesn't get there it won't be from a lack of trying.
A look back on the previous prospect posts...
No. 1 -
Billy Hamilton
No. 2 -
Robert Stephenson
No. 3 -
Tony Cingrani
No. 4 -
Daniel Corcino
No. 5 -
Nick Travieso
No. 6 - Jesse Winker