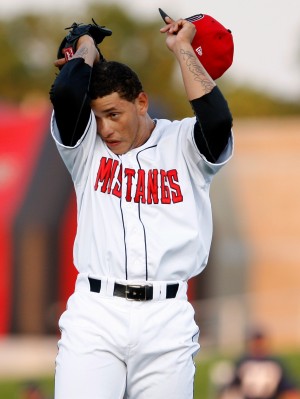 by: Jon Davis
Staff Writer
@I_Bleed_RedsRed
#10 Ismael Guillon LHP
The selection of Ismael Guillon, a 6-foot-3, 195-pound lefty, here at number ten makes back-to-back prospects who were signed out of Venezuela at the age of 16. In fact, Guillon was signed just two months after Yorman Rodriguez back in 2008. After a bad 2011, where he had 6.6 BB/9 and an ERA of 6.57, Guillon bounced back nicely in 2012 sporting a 2.38 ERA in 75.2 innings. The numbers that jumped out were the 10.7 K/9 and the huge drop in walks down to 3.7 per 9 innings.
Guillon has a delivery which is a little herky-jerky, but with good deception. He has a fastball that ranges from 88-93, but will usually be around 90 or 91. It has no significant movement, but it does appear to jump at hitters because of his deceptive delivery and arm speed. Guillon's best pitch is by far his change-up, which is a legit plus change-up that generates a lot of swings-and-misses. He does have a curveball that he can throw for strikes, but it is still a work in progress. Guillon probably won't come quickly, but he does offer the potential of a mid-rotation starter; that's if his curveball gets better. Otherwise, he could be a solid innings eater and back of the rotation starter.
Going into 2012, the only big question mark was his command, but Guillon made huge leaps forward in that department in 2012. He could start the year in Bakersfield, but I wouldn't be surprised if he started in Dayton if the Reds opt for a more patient approach. He will probably be on the big league radar in late 2014 or in 2015 and could get a shot sometime during the 2015 season. However, I think the fact that he's already on the 40-man roster says a lot about what the Reds brass thinks about his future.
A look back on the previous prospect posts...
No. 1 -
Billy Hamilton
No. 2 -
Robert Stephenson
No. 3 -
Tony Cingrani
No. 4 -
Daniel Corcino
No. 5 -
Nick Travieso
No. 6 - Jesse Winker
No. 7 - Tanner Rahier
No. 8 -
Kyle Lotzkar
No. 9 -
Yorman Rodriguez