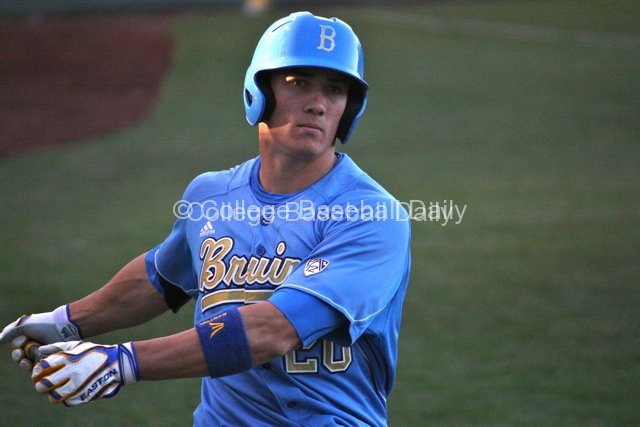 by: Jon Davis
Staff Writer
@I_Bleed_RedsRed
#17
Jeff Gelalich
OF
@jeffgelalich on Twitter
As we march towards Opening Day, we have gotten to No. 17 on our countdown, with Jeff Gelalich a 6-foot-1, 185-pound outfielder. Apparently, not as strange as I thought, and definitely more common, we have another "flip flopper" in Gelalich. He too is a left handed hitter but throws right handed. A supplemental 1st round pick in the 2012 draft out of UCLA, he will enter the upcoming year at 22 years old. In his final year at UCLA he started all 64 games for the Bruins and was named a first-team All-American by Baseball America. He led the Bruins in batting average at .351, home runs with 11, hits with 86, slugging percentage at .535, on-base percentage of .444 and collected 16 stolen bases. In 2012, he went to Rookie ball with the Billings Mustangs, and in 146 plate appearances hit .244 with a .336 on base percentage. The low batting average is not a big concern, as he played through a hand injury last year, which I am sure contributed to the subpar numbers. Even with a low average, he did put up a very good on bases numbers, but with a lot of strikeouts, but how much of that had to do with his hand injury is yet to be seen.
Gelalich is the kind of player that does a lot of things well, but does not have any explosive tools in any one area. On the defensive end, Gelalich has an above average arm & good speed, he uses that speed just as well on the bases as in the field. He shows enough skill to be able to handle center field, but profiles better as a corner outfielder. He is a solid hitting prospect all around having shown the ability to hit for average and power. He is more of a gap to gap power hitter who will pick up plenty of doubles, also 15-25 home runs annually is a reasonable projection if his power continues to develop. Coming out of college he had respectable plate discipline, while this past year showed a more mature approach leading to improved projections for his hit and power tools. The only question mark is the strikeouts, keeping in mind they might be due to the hand injury, but still he will need to cut the strikeouts down if he wants to reach his ceiling in the future. He has been compared to
Bobby Abreu
, which seems to me to be a pretty accurate comp at this point in time. We are still very early in the process with Gelalich, but he should have a big league role in some capacity in the future, at minimum he should be like
Chris Heisey
, the ideal fourth outfielder who can play all three positions.
Gelalich could reach majors by end of 2014, for a cup of coffee as they say, but expect his name to be on our collective radar in 2015 for sure. As for where he will start this year, definitely either Billings or Dayton, if I had to guess I would say next year Gelalich starts as a Dragon.