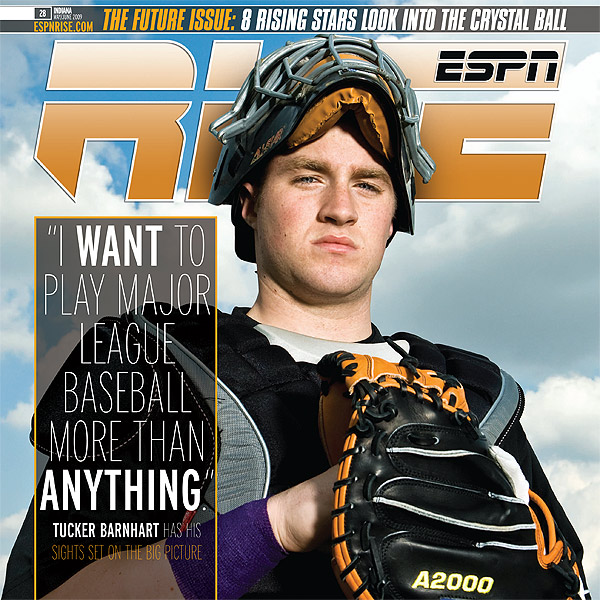 by: Jon Davis
Staff Writer
#18
Tucker Barnhart
C
@Tucker_Barnhart on Twitter
Here at No. 18 we find Tucker Barnhart, a 5-foot-11, 185-pound switch-hitting catcher. The Reds drafted him in the tenth round of the 2009 draft out of Brownsburg High School in Indiana. In 2011, playing for the Dayton Dragons, he hit .273 with a .344 on-base in 372 plate appearances. Then last year, while splitting time between Bakersfield and Pensacola, he hit .247 with a .330 on base in the same number of plate appearances as the previous year. While his average dropped, it may in part be due to the large jump in levels. The good news is that even with the drop in average, his on base did not drop much at all.
Barnhart, who turned 22 earlier this month, is an excellent defensive catcher. He has a plus arm that is quite accurate, so the only question is his bat. Offensively, he has solid plate discipline and decent contact rates, getting most of his current value from his ability to draw walks and make contact. He has shown good bat speed and power, but it has yet to translate and develop. Being a switch hitter is a good thing, but Barnhart has shown to be a stronger hitter from the left side of the plate. At this stage, he is at worst a defense-first catcher in the Major Leagues. If he improves things on the offensive side where he had some struggles last year, mostly in Double-A, he could develop into a very good everyday catcher. Offensively, he will probably never be a big source of power, but has shown the combination of making contact and plate discipline to be an above average contributor.
Now taking all this into consideration, Barnhart's potential goes from being a defense-first catcher with average to below average offensive contributions, on the low side, all the way up to being a better all around version of
Ryan Hanigan
, on the high side. I see Barnhart becoming an excellent defender who hits for a good average, with a very good on base and little power, based on what he has shown so far. Looking at Hanigan's advancing years, Barnhart looks to be an ideal replacement as the backup to Mesoraco for the foreseeable future.
There are many scenario's that could play out over the next few years for the Reds at catcher. The key factor is
Devin Mesoraco
, seeing as Barnhart is at least one year away, this is the year to find out if Mez is indeed the future of the position. Barnhart will most likely start the year with the Pensacola Blue Wahoos. If he has a good year he could find himself in a Reds uniform in 2014.