It wasn't too long ago when Reds fans were anxiously awaiting the arrival of
Joey Votto
,
Jay Bruce
, and
Johnny Cueto
to the big leagues. After all, these guys provided a glimmer of hope in a baseball-crazed city that hadn't sniffed the playoffs since 1995. The trio eventually arrived, and as expected, helped get baseball's oldest professional franchise back to the promised land with a surprise division title run in 2010.
In 2012, a new wave of young talent emerged to help lift Cincinnati back into October. Namely,
Todd Frazier
,
Zack Cozart
, and to some degree,
Devin Mesoraco
. In just a short amount of time, the likes of Votto, Bruce, and Cueto have all of the sudden found themselves as no longer the budding prospects, but the veterans of the bunch. Oh, how has the time flown by so quickly?
I still remember folks speculating about how good Votto could be. I still remember the early comparisons of Bruce to
Ken Griffey
Jr. And I still remember some believing that
Edinson Volquez
would go down as a better pitcher long-term over Cueto.
All of those recollections of the past got me thinking about this current nucleus of young Reds players. And then I began to wonder, how will the careers of these three players pan out? After dusting off my "Magic 8-Ball", here are the outlooks I came up with for each respective player.
Cozart:
The former Ole Miss Rebel made quite an impression during his brief stint with the Reds in 2011 before an elbow injury sidelined him after just 11 games. That alone was good enough for
Dusty Baker
to basically pencil him in as the everyday shortstop entering 2012. Although his first full years in the majors wasn't a smashing success by any means, the 27-year old still managed to post modest numbers. Cozart slashed .246/.288/.399 with 15 HR, 35 RBI, and a whopping 33 doubles hitting primarily out of the leadoff spot. Defensively, he sported a fielding percentage of .975, which was third-best among NL shortstops.
So, how does he project in the future? Well, I believe he will benefit tremendously from being moved out of the leadoff slot. The acquisition of
Shin-Soo Choo
will allow Baker to slide Cozart down in the order, and take considerable pressure off of the Memphis native to being something that he is not, which is a high OBP guy. Cozart tallied a cumulative .332 on-base percentage in 5 seasons in the minors. While it isn't a bad OBP, it's not exactly a great one either. He should benefit from hitting lower in the order.
In my opinion, Cozart projects to be a fixture at shortstop for several years to come. He exhibits many qualities that any club would like their shortstop to have. He plays solid defense, is instinctive, can hit for power, and appears to be a good character guy and teammate in the clubhouse. I don't expect Cozy to become a perennial All-Star, but I do expect him to play a key role in the team's success for many years.
Frazier:
Raise your hand if you foresaw the type of season Frazier would have prior to last season? There shouldn't be many raised hands at this point. The preseason hype involving Reds rookies revolved around Cozart and Mesoraco during spring training, but not Frazier. Well, wouldn't you know it that the Toms River, N.J. native would turn out to be arguably the club's most valuable player?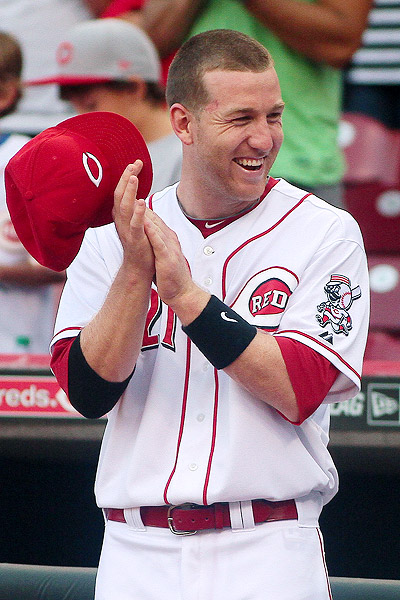 The 26-year old finished third in the NL Rookie of the Year voting after batting .273/.331/.498 with 19 HR, 67 RBI, and 26 doubles during 2012. At one point, he was considered the odds-on favorite to win the award before cooling off near the end of the year. Nonetheless, the former Rutgers Scarlet Knight turned out to be a very pleasant surprise, so pleasant in fact, that he is slated to become the starter at third base in 2013 despite whatever retirement decision
Scott Rolen
makes.
But how does Frazier project in the long run? Can we expect more of the same from the right-handed slugger in the future? Like Cozart, I for one believe the answer is yes. Frazier is here to stay and that is music to the ears of Reds fans, I'm sure. Out of the three, I would venture to guess that Frazier ends up having the most productive career. His versatility, durability, and ability to play multiple positions will allow him to hang around the league well after his value as a starter has ceased. But that time shouldn't come for awhile. Expect the former first round pick to continue to do great things in the Queen City.
Mesoraco:
The Pennsylvania native did not experience a good individual showing in '12. Far from it, actually. Mesoraco entered the year as the top prospect in the organization and failed to deliver on the promise. He was hampered by suspension and nagging injuries, which led him to appear in just 54 games during the regular season. In those games, he posted a .212/.288/.352 slash line with just 5 HR and 14 RBI. Those numbers fell well shy of what many were hoping for from him.
But 2013 brings forth a new slate for the former first rounder, a chance for redemption, if you will. There is no denying the 6-foot-1, 225-pounder's ability to hit a baseball. Take a look back on his minor league statistics if you are still skeptical about that. However, will he be able to put it all together in the big show? I believe so.
At age 24, Mez still has a lot of time (and room) to reach his potential. And with this being
Ryan Hanigan
's last year under contract, and with no up-and-coming prospect nor obvious solution to replace him, Mez will get every available opportunity to prove his worthiness. It's quite possible that Mesoraco will develop along the same lines as
Homer Bailey
has, which is slow and steady. Both cases would make sense considering the fact that neither ever played collegiately, but rather made the jump from high school to pro, instead.
Of course, this may not sit well with Reds fans, especially if
Yasmani Grandal
continues to enjoy success (.297 BA, 8 HR, 36 RBI) in San Diego. Grandal was the catching prospect behind Mesoraco with which Cincy dealt westward in exchange for
Mat Latos
last winter. However, like Cozart and Frazier, Grandal also seems to be on a faster track because of his time spent at a major college program (Miami). That wasn't a luxury Mesoraco got to partake in. With that being said, the Reds and its fans should maintain patience with the young backstop. After all, there is no need to rush just yet. Hanigan will hold down the position through '13. Hopefully Mez will be ready for full-time duties by 2014.