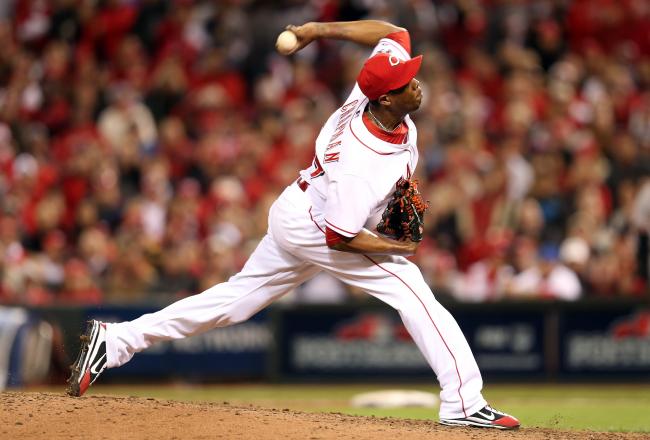 It's no secret, folks, the Reds MLB roster is loaded with young talent under the age of 30.
Jay Bruce
,
Joey Votto
,
Johnny Cueto
,
Mat Latos
,
Todd Frazier
,
Devin Mesoraco
,
Mike Leake
,
Jonathan Broxton
, and
Zack Cozart
are just a few of the players who fit that bill. Hey, don't worry, I didn't forget about 24-year-old
Aroldis Chapman
. And neither did ESPN's Keith Law, who recently pegged Chapman as the 13th-best MLB player under the age of 25.
From Law regarding Chapman:
Current: For the purposes of this list, I'm calling Chapman a starter, which was his role when pitching for the Cuban national team before he defected. We've seen what he can do in relief -- sitting 98-100, hitting 104, with a wipeout slider and a changeup that was almost doing hitters a favor because it arrived at a hittable velocity. He'll need to dial it down a notch to start, but his delivery should support 100 pitches per game if he does so, and I think his changeup, one which he has shown good arm speed with, will become a more effective weapon with increased use.

Future: If Chapman meets my expectations for him as a starter, he'll be among the top 10 in the game, with stuff that rivals Strasburg's and Kershaw's. If not, we already know he can be about as valuable as any reliever can be under the current, brain-dead reliever usage paradigm, where relievers are subject to spontaneous decapitation if they're allowed to get more than three outs in one game.
Worth noting: Former Reds prospect
Yasmani Grandal
, 24, ranked No. 20 on Law's list.
In order to be eligible for this list, a player must be 24 years or younger as of today (i.e. been born on or after January 11, 1988), and must have already exhausted his rookie of the year eligibility. So players like
Jurickson Profar
and
Dylan Bundy
don't qualify -- they'll appear on my top 100 prospects rankings in early February --while players like
Mike Minor
and Mat Latos just barely missed the age cutoff.
CLICK HERE
to view Law's complete list (ESPN Insider).