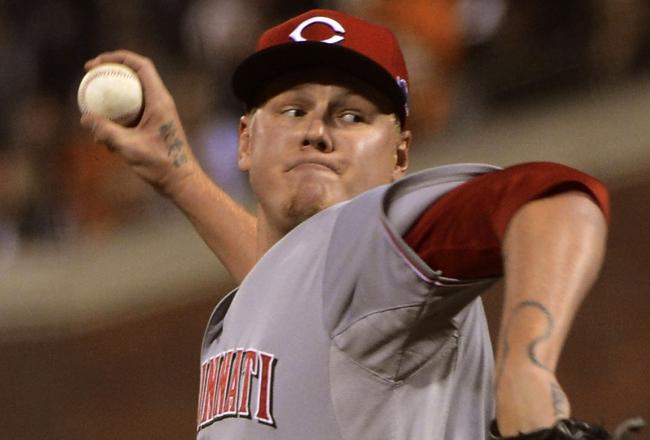 It has been rumored that the Reds have been trying to work out a long-term deal with several of their players this offseason. Namely, Mat Latos and Homer Bailey. The practice of signing younger players before they blossom into stars is one used all across the big leagues. It's designed to not only lock players into place for many years down the road, but it's designed to save teams money in the long run, as well.
In his most
recent post,
ESPN's Jim Bowden features six youngsters he believes should be signed to long-term contract extensions. Latos is among them, and here is what the former Reds executive had to say:
A year ago, the Reds traded three of their former first-round picks -- catcher Yasmani Grandal, first baseman Yonder Alonso and reliever Brad Boxberger -- along with Edinson Volquez for Latos. With a trade of that size and significance -- especially considering what the Reds gave up -- it's important that the Reds sign Latos to a long-term deal. This past season he won 14 games for the second time in his career. He has logged a minimum of 180 innings pitched in each of the past three years with a steady ERA of 3.49 and WHIP of 1.17 over the past two seasons. Latos has the potential to develop into a No. 1 starter, and the Reds could do as well as they did when they signed Johnny Cueto to a long-term deal in 2011, a contract that saved the Reds millions of dollars.
The 25-year old Latos is scheduled to receive a considerable bump in pay this season compared to the past. Latos earned $550,000 in base salary in 2012, $460,000 in 2011, and $408,000 in 2010. He is expected to receive around $4.5 million for his services in 2013 once the dust settles on his arbitration case.
A contract extension would definitely increase that '13 salary even more, however, it could prevent the franchise from paying out more money in later years should they otherwise wait and try and re-sign him then.