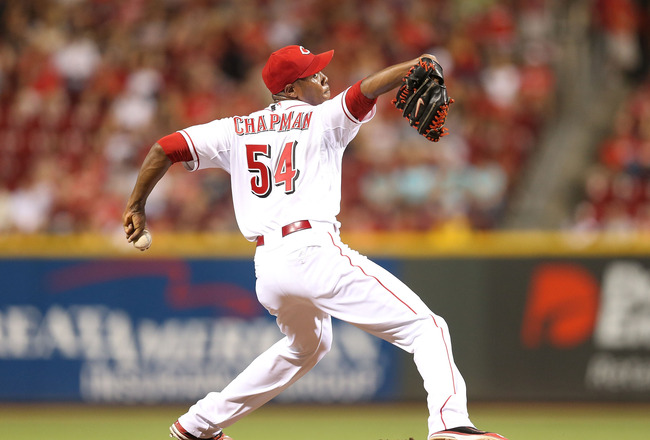 The Redlegs have been adamant about moving Cuban sensation
Aroldis Chapman
into the starting rotation for three years now. However, he is found himself pitching out of the bullpen in Cincinnati for each of the first two seasons. But the Reds appear serious about dubbing him a starter this go around after re-signing Jonthan Broxton to a multi-year deal to be the team's closer. But one ESPN writer isn't sold yet that the club will follow through on its intentions.
Jim Bowden, former general manager of the Reds, believes the Reds will move Chapman back to the closer's role. He did so in a post entitled "
Five moves that will happen this spring
" and here is what he had to say about the Reds:
When the Reds signed Aroldis Chapman to a five-year, $25.5 million deal back in 2010, it was with the expectation he would eventually develop into a top-of-the-rotation starter. The Reds have spent the first three years working him exclusively in the bullpen, where he has really developed the command of all his pitches and greatly improved his secondary stuff. Last year, he dominated the NL with a 1.51 ERA, a 0.80 WHIP and 122 punchouts in only 71 2/3 innings.

General manager Walt Jocketty and pitching coach Bryan Price both strongly believe Chapman finally is ready to make the move to the starting rotation, a move they hope will be as successful as when the Chicago White Sox made a similar switch with young left-hander Chris Sale.

However, manager Dusty Baker and several Reds players, including veterans Bronson Arroyo and Brandon Phillips, think that Chapman is the best fit as closer, especially in a year where they are good enough to win a World Series. The Reds signed Jonathan Broxton to a closer-type three-year, $21 million deal with the hopes he can replace Chapman. Broxton should be able to do it, but certainly no one expects him to be able to do what Chapman did last year.

Therefore, with an already deep rotation of Johnny Cueto, Mat Latos, Arroyo, Homer Bailey and Mike Leake, it probably makes more sense to wait a year to move Chapman into the rotation because this team is good enough to win it all right now.
I must admit that I too remain a little skeptical that Chapman will indeed play out the season as a starter. The southpaw was just so good in the closer role in 2012 that it does seem illogical to remove him from there. But we shall see how this thing will play out in spring training, I guess.